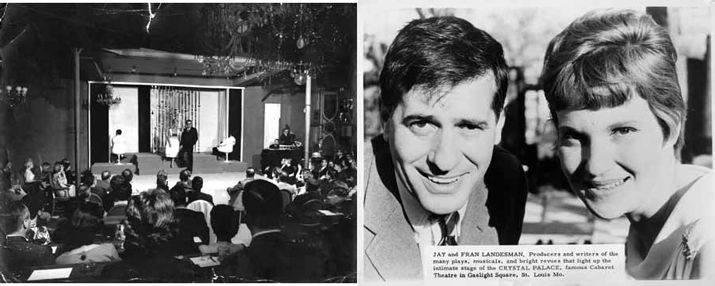 Two-become-one during the phone call with both original interviewee singer Sarah Moule and welcome gatecrasher, housemate, pianist-in-residence Simon Wallace in a deft pas de deux both participating for a brief but stimulating half hour chat to introduce you dear readers to what from a certain Vantage point is certainly a Frantabulous night to make romance conjured up by the prospect this spring of Stormy Emotions, Sarah's new Landesman and Wallace shaped album where lyrics are centrestage.
Sarah, of course married to Simon Wallace, worked with the ''poet laureate of lovers and losers'' Fran Landesman (1927-2011) extensively over many years. And both Si, as Sarah calls her husband throughout the call, got to know Fran very well both on gigs and at her place. ''She was a great giver of parties,'' the singer says. Fran was famously the writer with Tommy Wolf of 'Spring Can Really Hang You Up the Most' and 'Ballad of the Sad Young Men.'
Sarah, cloistered during this latest dread Lockdown at home in south-east London where she and Simon are speaking from, has a current routine she says as we small talk a little at the beginning of the call revolving around ''working every day'' for instance at the moment preparing for a live stream soon and ''figuring out the tech''. Simon and Sarah have a home studio that the pair built 10 years ago. There's a Yamaha S6 grand piano at the heart of the sound and over the years at the studio, luminaries, Simon mentions, such as Buddy Greco, Mark Murphy and Pete Atkin have recorded there. To my chagrin I still haven't seen Sarah live. However I did manage to hear Simon perform with Pete Atkin and the late Clive James (the famed poet, critic and songwriting partner of Pete's) at the Groucho in Soho when they launched Midnight Voices.
The indie-jazz label 33 Jazz will be releasing Stormy Emotions in far off May, not even April to be all Landesmanic (after TS Eliot) ''the cruellest month'' when ''love is just a ghost,'' Moule and Wallace knew the label head (he of the famous-in-Luton mavericks Sweet Slag) Paul Jolly, and wanted to go with Paul's label. One track from the album 'Never That's When' is streaming via Sarah's Bandcamp pages.
The singer's work in the past has appeared on the Linn label and on her and Simon's own imprint Red Ram. Songs from the Floating World released in 2014 is the high water mark of her considerable back catalogue. For instance there is a stop-the-traffic version of Landesman-Wallace's beautiful 'Scars'. Her voice has an integrity to it and seems to scoop up the past into a wise version of the present. The singer becomes the song, the song becomes the singer. That happens so rarely.
When asked why be a jazz singer she says thoughtfully that she was inspired by listening to some Jeri Southern and Billie Holiday records recommended by a jazz record seller in Dobells, or was it thinking about it, Ray's when it used to be Shaftesbury Avenue. The latter she decides. So entranced after a spell singing backing vocals while at university she made the leap entirely when she fell into the orbit of Claire Martin who became her mentor and guide.
As to musicians joining Moule and Wallace on the album double bassists the Shavian (Ian not George Bernard that is) Mick Hutton, ''Level'' Neville Malcolm, a delight in recent years with Deelee Dubé, drummers Paul Robinson and Rod Youngs, guitarists Charlie Cawood and Nigel Price plus former Polar Bear saxophonist Mark Lockheart also figure. Lockheart almost steals the show with his soprano saxophone introduction on 'Are We Just Having Fun.'
Simon adds a lot of historic monochrome to the conversation when he mentions visiting St Louis where the Fran legend really began. He was playing in the States with the adored chanteuse Barb Jungr and they visited the site of the famous Crystal Palace club that he explains Fran and her brother Fred ran after Fran left New York for the Mid-West with her husband Jay to the horror of Fran. But there her work with club pianist Tommy Wolf began, her deathless legend as one of the classic lyricists, a story that is as immortal as her songs given the buzz the place generated partly created by the great comedian Lenny Bruce and appearances by Barbra Streisand. Simon does not demur when I suggest a tad boldly that for Sarah he is now her Tommy Wolf.
Thinking about it later more the Moule and Wallis sound connects, when you go back to the first version of 'Spring', a song that does not appear on Stormy Emotions, to the world of Jackie and Roy in a parallel running for the 21st century. Sarah mentions when quizzed further on the theme of Ian Shaw's interpretations, referring back to the iconic Welshman's acclaimed songbook album of Fran's songs, that his versions are ''freer''. She herself feels ''a great responsibility'' to the songs and says ''I am very respectful''. Simon was Ian's musical director for many years and is on the last great songbook themed Landesman album A Ghost in Every Bar released in 2012. A link to the present also is Mick Hutton, along with 'Level' Neville, one of the two double bassists on the record and who plays regularly with Ian.
Certainly these songs of Landesman and Wallace's are serious works of art so reverence is important but not compulsory! Certainly more seriously there is no room for clinical endeavour to condemn the songs to becoming encased in some sort of however beautiful a vitrine. Fran on 'Life is a Bitch' is worth quoting to keep grounded: ''Life's full of shit/Even when you're in your prime/Though your show's a hit/Reason never seems to rhyme/Every joke has a switch/Every joker a twitch/Every high has a hitch/And Baby, life is just a bitch.''
Pick of the album? Possibly 'Magician's Confession', a novella in the space of a song. These songs are all their own multiple worlds. We walk into separate rooms to find them. The title track kept to last is also pretty special. Sarah and Simon explain that during Lockdown they both miss the audience, Sarah in a ringing phrase refers to ''that temporary community'' who join her at the heart of live performance. That moment's surrender to begin again is what we all surely crave and invest all hope in. SG
Sarah Moule, top. Photo: Bandcamp. Above inside the Crystal Palace, a vintage publicity photo of Jay and Fran Landesman who owned the Gaslight Square venue in St Louis
Tags: