Into the music. Into a greater consciousness where jazz connects with soul and where the 1960s are as relevant as the 2020s: two thoughts listening to Full House, the Russell Oliver Stone and Mitch Dalton album that is a soundtrack for anyone willing to make such connections and that's not all.
With the theme of Wes Montgomery at the forefront of both the singer and guitarist duo's imagination the album was recorded at Curtis Schwartz's studio in Sussex, Schwartz, renowned for his work with Stacey Kent and The Impossible Gentlemen and currently Russell tells me on the phone this morning from rural Hampshire where he himself has lived for 30 years, working with Yes.
Stone, best known for writing and singing the much loved 'We Do it' in duo with his wife Joanne as R&J Stone, grew up in Norfolk ''in a small village near the Fens'' and left there for boarding school. His parents sang and he liked Gilbert and Sullivan operettas as a young person before singing professionally with such famed bandleaders as James Last. Russell says he didn't necessarily gravitate to the London music scene and toured wherever the work took him and went instead with theatre companies for a while doing pre-recorded shows and studio sessions as a career path naturally shaped itself.
Fast forward simply decades to Full House where jazz is centre stage and his words are very important and a beacon. Russell's gifts as a lyricist are very evident. He tells me he likes Hendricks, Lambert and Ross and met Jon Hendricks at an audition for a TV programme who even complimented him on his own voice (in a tone of positivity when he heard him quipping: ''I'm out of here!'').
Other musicians on Full House include percussionist Adriano Adewale and drummer Enzo Zirelli. Dalton, known for his work with the Pythons and Van Morrison, did the arranging. Russell was also back in the day inspired by the ''satirical vibe'' of That Was The Week That Was and the hip singer Millicent Martin who sang the theme tune.
Where there's a Wes there's a way is a big driver of the album and the album also connects with the London zeitgeist of the 1960s. More up to date in terms of very recent public affairs 'British Values' is wry and knowing, the lyrics riffing on Brexit. Multiple interpretations of the tapestry painted in the song are quite possible such is the skill of the wordplay and the breezy delivery. Russell referring to his co-leader notes that Mitch has an ''acerbic sense of humour'' but ''his romantic side can come to the fore''. Clearly the two bounce off each other instinctively in the flow. There is certainly a lot of very fluent improvising throughout from both, and the riff-groove alchemy is also achieved without anything seeming to be contrived or too sectionalised. Dalton grooves on a snatch of Tito Puente's 'Oye Como Va' made famous by Carlos Santana at the beginning of 'British Values' and later Russell goes into ''sounding'' as he tells me, his name for his bespoke style that comes over as sharing an affinity with a south Asian language.
On 'West Coast Blues' there is vocalese, and this will delight connoisseurs most of all perhaps because, one, it is quite rare to hear nowadays; and, two, is very difficult to pull off without being clunky or cheesy (Russell remarks himself on how tricky it is). These lyrics written to improvised instrumental lines dwell on the theme delivered as ironic observation of the lifestyle of Hollywood ''execs''. 'OGD (Road Song)' is also one track that I kept returning to among quite a few.
The pair have worked together before the Pandemic when they played London jazz venues including the Soho Pizza Express Jazz Club on Dean Street, a veritable shrine that very many London scene jazz fans hope can emerge from a long hibernation given the drama of Lockdown and the travails of the parent company of the chain.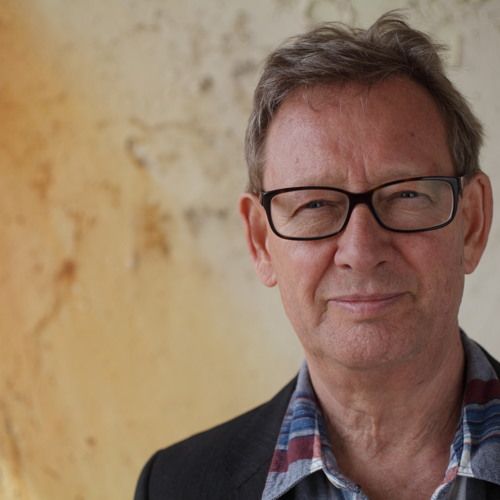 Overall the duoplay on Full House is just right and to draw on a lyric from the album ''Melody fits the groove''. Stone does his own backing vocals a feature that he tells me he enjoyed making and of course during his career was also a speciality in his own song of singing. 'Time After Time' is the balladic highlight of the record, possibly the whole thing, it is a really very fine version and savouring that we talk about ''the unsurpassed'' Frank Sinatra a little who famously covered the Sammy Cahn and Jule Styne classic.
Russell tells me of his deep love for black music partly inspired by Joanne, his late wife whose Minnie Riperton-like voice at times on records is utterly remarkable and moves you. He says he finds labelling styles quite useful but it ''misses the point'' because Ray Charles straddles so much, for instance soul and jazz, and refers even to his moving to explore country.
A yoga practitioner and spiritual teacher we discuss healing and his interest in sufism, the latter initially inspired by attending a workshop where he heard Qawwali and what he terms its ''totally different improvisational'' sense that he had never hitherto heard. In Qawwali he refers to its ''unbelievable sophistication''. He is also interested in researching near-death experiences and shamanism. ''The spirit sings through the body.'' SG
Russell Oliver Stone, top and above. Photo: russelloliverstone.co.uk
Tags: