Promoter Paul Pace, the driving force behind Spice Jazz at the Spice of Life pub in Soho and also a booker at Ronnie Scott's, explains how Lockdown has affected him, a situation especially scary when he felt debilitating symptoms of the virus coming on. Now fairly recovered and looking ahead he explains that the Spice cannot easily string together a workable business model when social distancing rules will reduce its capacity to only a third.
ThreeBop, a 3-part vocal harmony group featuring three of the most distinctive young jazz voices on the scene, Rosina Bullen, Ella Hohnen-Ford and Luca Manning who were backed by a superb rhythm section of pianist David Swan, bassist Will Sach and drummer Boz Martin-Jones was an apt booking to end our Spicejazz 'Spring' season in the cosy basement at the Spice of Life pub in Soho on the evening of Wednesday 11th March. The music 'cooked' with the emphasis on the much loved material from the 1962 Nancy Wilson/Cannonball album which has been an inspiration for aspiring jazz vocalists for decades along with the vocalese and scat model as pioneered by Lambert, Hendricks and Ross. Both core influences were in evidence but somehow each singer was able to make their own mark as soloist and blend seamlessly as as a group, respecting the dynamics and lyrics of the songs. The room was packed in a way that we have not experienced over the past two months.
My team, Johanna Burnheart, Alex Western-King, Clement Regert, Matt Brewer and I had decided to make this gig the last one for the foreseeable future. The Coronavirus storm clouds had been gathering news-wise and it was beginning to feel risky for our customers and performers to stage such an event.
Just two days later and a week before official lockdown I experienced the recognised symptoms of COVID-19 though of course I cannot know for sure without having taken the test. It was appropriately Friday 13th March when I felt slight body aches which broke the next day into fully blown fever providing me with the scariest moment as there were all kinds of horror stories circulating through the media about what could happen. My thoughts considered the possible slipping away of consciousness into another dimension, spiritual or otherwise. The fever subsided by Sunday evening followed by more intense body aches and then fatigue for several weeks which now comes and goes.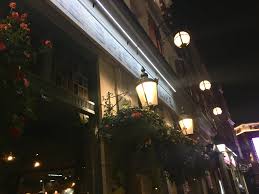 The Spice of Life, above. Photo: marlbank
Once I starting feeling better, I began to consider this weird and tragic situation as a God-given opportunity to sort out all the stuff – house decluttering, learning to play the piano/trumpet, reading those unread books and 'hitting the sack' before midnight – that I never got round to because I was always too busy in my 'day job' as part of the booking team at Ronnie Scott's and my weekly commitments at the Spice. Although one is a dream job and the other a labour of love, ie. unpaid, the density of tasks allied to both endeavours could seem at times like a relentless treadmill.
The Spice of Life has been a big part of my life since 1998 when I started staging gigs in a modest way just before the infamous 'two-in-the bar' rule, whereby not more than two musicians were allowed to play at any one time in an establishment that did not possess a music licence, was abolished. The programming has come on by leaps and bounds and I feel proud of all the talent that has passed through the portals, many of whom are now well established on the scene.
I now consult with my SpiceJazz colleagues, Clement and Johanna, regularly to discuss a revamp of the branding, marketing and particularly how we would best present the music when we eventually reopen. Currently, as with all UK venues we cannot easily formulate a workable business model when social distancing rules will reduce the capacity to 30-40%. Could it be a case say of selling two houses, which I can see being difficult to manage, or is there the possibility of live streaming the gig to viewers/subscribers for a fee or donation as well as selling a limited number of room entry tickets?
There have been dire predictions that live music as we have known it, will not emerge until next year. It has been tough in the best of times to run a weekly event at a grassroots venue such as the Spice. Our thinking caps are well and truly on and we look forward to seeing our lovely customers in the well-appointed music room, hopefully sooner rather than later.
Paul Pace, top. Photo: Benjamin Amure
Tags: