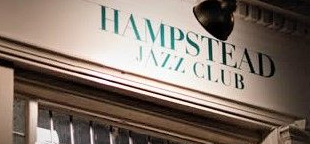 You get a certain atmosphere overall that lends to thoughts of a Parisian thoroughfare in the Bertrand Tavernier film Round Midnight at Mayank Patel's Hampstead Jazz Club. A waiter last year even suggested to marlbank sitting at a picnic table outside the upstairs Duke of Hamilton that you could, a little like Francis Paudras, listen through the vents at the jazz rising up.
So true given some poetic licence. The club, which is on New End, does not operate every night. But it is far more regular in terms of gig frequency now and looking ahead this year compared to 2021 when the scene was very uncertain given the slow emergence from Lockdown. Just a year ago clubs in London after all were only tentatively re-opening.
Coming up is the George Kontrafouris trio featuring Tom Ollendorff and Billy Pod. Kontrafouris, also known more authentically as Giorgos, we heard on Wurlitzer with saxophonist Timo Lassy back in 2015 circa Love Bullet in Chelsea club the Pheasantry. Fine bebop guitarist Tom Ollendorff was recently in action deep in the heart of Down at Maggie Doyle and Linley Hamilton's Magy's Farm.
Skinny-tied, lightly bearded Lassy, above, with Kontrafouris on the Wurly, long and lean, blew like Dexter Gordon that night, another Round Midnight connection given that Dexter acted in the film as the composite Lester Young-Bud Powell character Dale Turner. And watchful, alert, on a Wurlitzer electric piano that Gregory Porter booking agent Heather Taylor had arranged for the Greek and which had arrived from the supplier's just in the nick of time for the gig, Kontrafouris wrinkled out the knots and untangled the curls of the twists and turns of the tenor line just fine on 'Green Pepper Strut.'
The gig is tomorrow night
See the Hampstead site for ticket details. Main pic: via the club site, remaining images, marlbank
Tags: reviews