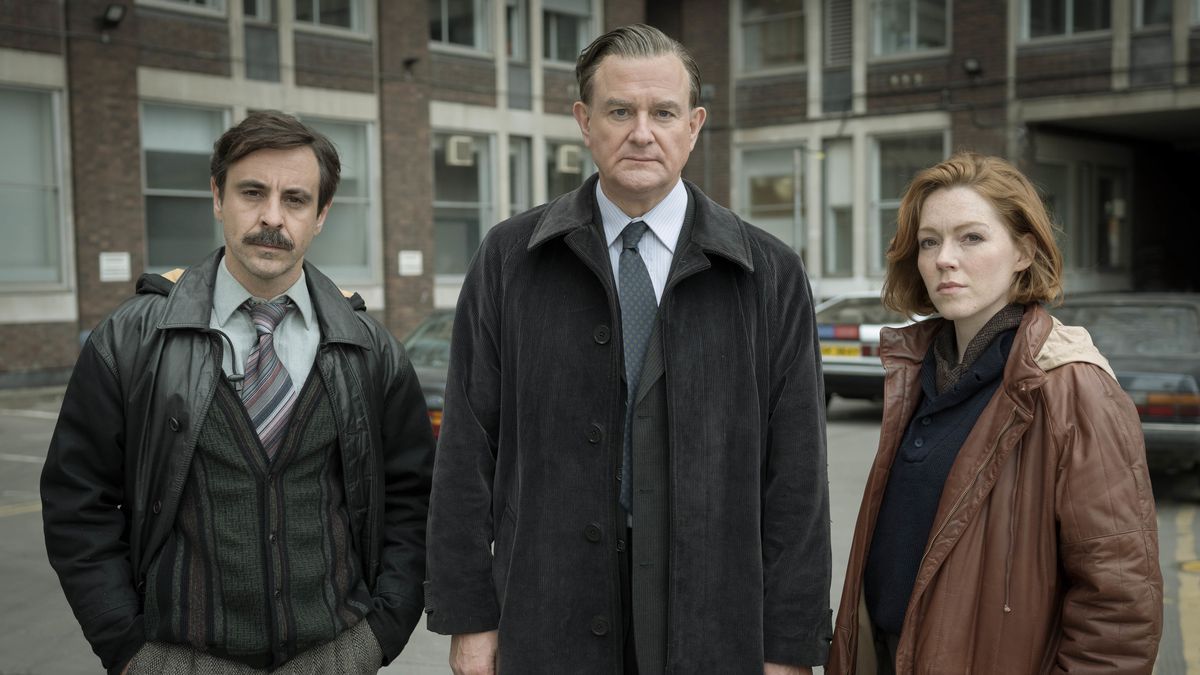 ''People think jazz doesn't have rules. I find that level of ignorance fairly infuriating.''
Following on from the jazz club owning Ridley last year in a primetime television drama, step forward the latest full of sarf London malarkey, more Masons than found building your average tower block, peculiar looking 1980s moustaches, everybody smoking like chimneys, rozzers running all over Rotherhithe, nostalgia for mud larking on the banks of the Thames and bags of iffy cash stashed in the boot of the waiting motor. DCI Brian Boyce (played by Hugh Bonneville) in Neil Forsyth's The Gold which aired on BBC at the weekend not only listens to vinyl of Miles Davis' Kind of Blue on a record player of course set up in his office as he tends to paperwork but he has his own philosophy which he duly expounds on to detectives Nicki Jennings (Charlotte Spencer) and Tony Brightwell (Emun Elliott) in the third episode 'The Consequences Are Mine' as the pair prepare to pay a visit to John ''Goldfinger'' Palmer (Tom Cullen) who has been busily smelting stolen Brink's-Mat gold in his garden shed.
Boyce, against a tinkling jazz piano backdrop gives his Agincourt address to his talented team before they descend on the villains after earlier in the series explaining his ground rules of decorum to his new recruits: no drinking at lunchtime - no Freemasonry.
''People think jazz doesn't have rules. I find that level of ignorance fairly infuriating.'' He says crisply. Brightwell, clearly a bit baffled, nevertheless intones earnestly responding: ''I can imagine, sir''. Unperturbed Boyce continues: ''Jazz has patterns, parameters and then within the parameters there is improvisation. On a day like this the parameters are set. We want to catch them. They don't want to get caught. And from there it's all about improvisation. It's about instinct and ability.''
Arise - professor of jazz - Brian Boyce. Down that other jazz nick, at the Royal Academy of Music, head of jazz, yes, ''Nick'', Smart will have to raise his game given the peer pressure. But more seriously The Gold is a terrific romp and while hers is not a big role at all Dorothy Atkinson (Florence Scanwell in Harlots) as south London battleaxe and wit the brightly garbed Jeannie Savage never stuck for a devastating barb or two, steals the show in just about every scene she is in. Check it all out here.
What's next for Boyce's playlist, all you fan fiction elves beavering away out there, if you care imagine. Ah nothing like a bit of close as a whisker nominative determinism but the Golden (Basho, 2009) trio of course would land in his manor stylistically. If Kit, Maddren and big Cal ever find time to reform they might even do a turn. And then… there's always 'The Yardbird Suite' if ''the system'' at the Yard doesn't manage to lasso Boyce in first before it all goes pear shaped.
Brightwell (Emun Elliott), Boyce (Hugh Bonneville) and Jennings (Charlotte Spencer) in The Gold. Photo: BBC
Tags: