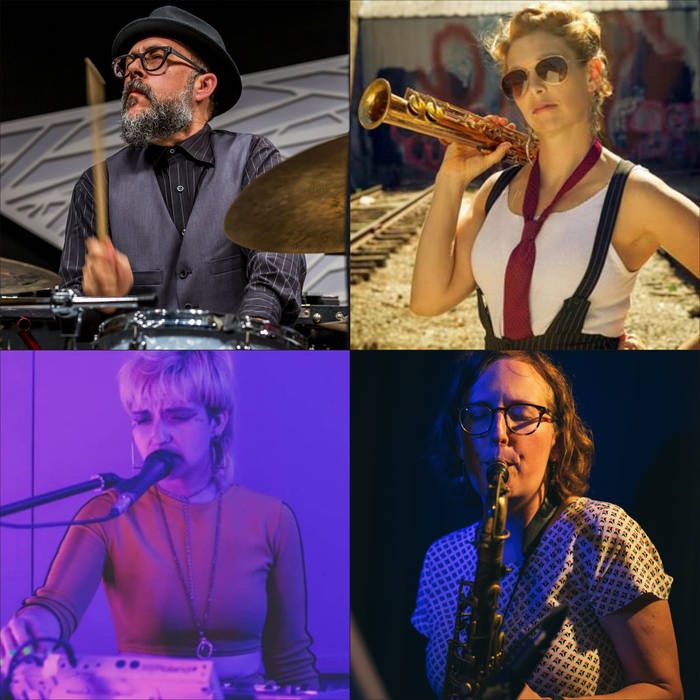 Drawn from Letters to George (Out of Your Head Records) out in January there is what may be a squelchy synth bass line that grabs you initially and an electro veneer that then shifts your head space into a 1980s/90s time for a few bars as much as anything to soften you up and let your ears prepare perhaps. Airy quasi solfège-like vocals shift matters later firmly into a far more stimulating odd meter art jazz space where drummer John Hollenbeck's emphatic sense goes ever further behind the assumed beat. Persuasive flute lines from Anna Webber intermingle with sax.
Hollenbeck well known for his years and years of work with Meredith Monk and for his acclaimed free wheeling band of avant adventurers The Claudia Quintet pares things back in terms of an arrangement on 'Earthworker'. Keyboardist Chiquita Magic and singer Aurora Nealand complete the George line-up. The other track streaming 'Can You Imagine This' is more punk-ish free form and just as vital.
The upcoming album, mostly Hollenbeck originals, also feeds in a Sonny Bono cover - 'Bang Bang (My Baby Shot Me Down)' - and a version of Cyril Tawney's 'Grey Funnel Line' - a touching nautically themed song found on the English west country folk singer's 1972 In Port album and the later Navy Cuts compilation.
FURTHER READING AND LISTENING:
George, top. Photo: Bandcamp
Tags: LATEST