"What is a poet? An unhappy man who hides deep anguish in his heart, but whose lips are so formed that when the sigh and cry pass through them, it sounds like lovely music… And people flock around the poet and say: 'Sing again soon' - that is, 'May new sufferings torment your soul but your lips be fashioned as before, for the cry would only frighten us, but the music, that is blissful."
– Søren Kierkegaard, Either/Or (1843)
Each Trio Tapestry album has journeyed into the profound and each inhabits human condition territory - that deep anguish Kierkegaard expressed in his great work - we arrive at given the scale of the achievement when the music becomes a vessel to understanding. It certainly does given the mood, feeling and abstract meaning in the layering of deep philosophical complexion. You cannot but believe what these three play. About freedom of expression couched in a language which isn't strung together from someone else's vision but one that fundamentally speaks their truth and which can be absorbed by any listener willing to surrender to their sound.
The freedom is in the lack (or rather the gain derived by the absence) of the beat of a bass instrument but it's not even that. The freeness is in the philosophy and the album's ferocious spirituality. What does freedom mean - and how long is a piece of string? Here's what we think it means listening to Joe Lovano on tenor saxophone and tarogato; Marilyn Crispell on piano and Carmen Castaldi on drums, gong, temple bells, given the deeply existential as much as spiritual overtones of the majesty of the playing and that's why we turn to the writings of proto-existentialist Søren Kierkegaard (1813-55) where the ''dizziness of freedom'' is like vertigo.
So a blissful benign blow your mind out of body experience is on the cards here - Lo and behold the tenor master becomes more conversational on 'Le Petit Opportun' but he doesn't solo in a conventional sense even here because of Crispell's imagistic harmonies and the great Braxtonian pianist's beyond-the-bar-line supra-legato conception that is as oblique as it is vital. It isn't the tunes here - it's the feeling, the aura, the sense of serenity. And because it isn't at all new agey and flakey there is a frightening sense of the abyss inherent in what is obviously a substantial piece of art but not three musicians against nature these instead seemingly at one with it and the fact that we are all tiny specks within an unknowable vastness emerges. The tribute to Charlie Haden is a thing of beauty but just about every one of these 8 tracks is as well. Change the way you think about pretty much anything you know about jazz by listening to Our Daily Bread deeply and often.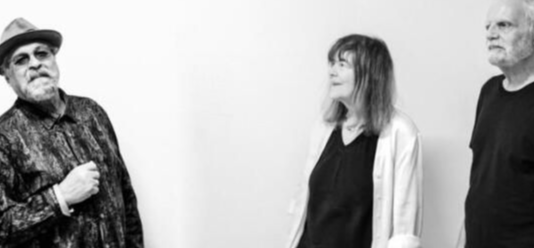 MORE READING AND LISTENING:
Trio Tapestry l-r: Joe Lovano, Marilyn Crispell, Carmen Castaldi, photo: Caterina Di Perri/ECM
Tags: