Certainly not a case at all of vin ordinaire.
Sax ace Will Vinson is yes in vintage form throughout and here with double bass meister Matt Penman and the great drummer Eric Harland. Breakout star tenor saxophonist Melissa Aldana whose 12 Stars is one of 2022's best is on 'Fable' and the amusingly titled 'Resting Jazz Face'. Vinson who sounds like that fine retro Strayhornian Tom Harrison when he plays alto, the Vinster's tenor work is just as convincing, is just as good a player as Aldana and certainly someone who needs far more exposure and one who isn't afraid to delve into the antique. He does not sound like an old fart. First, m'lud in the evidence for the defence on such a claim as we manage to rid ourselves entirely of such a waft from other less inspired quarters of parfum de moldy fig, to 'Blue and Sentimental' - the Count Basie, Jerry Livingston and Mack David piece first performed by Count Basie and his orchestra in 1938 (the one with the famed Lester Young clarinet solo) manages to come over as a mood setter interlude of a piece in context rather than the main plot and is treated with respect but is stripped of all bumbling Blimpish pomposity. Overdubbed solo sax is a treat on 'Things', Vinson in the overlapping is very conversational.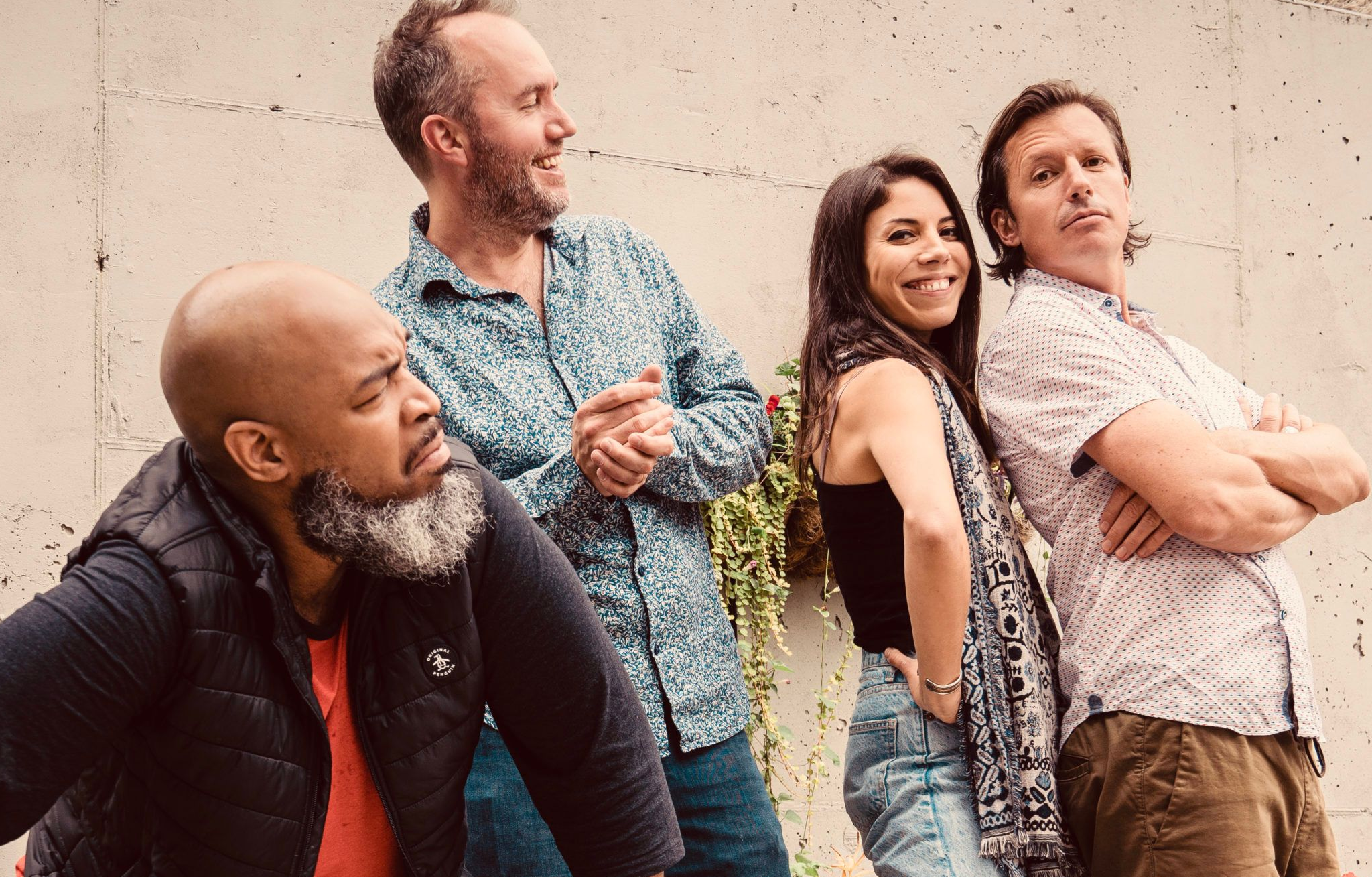 Eric Harland, above left, Will Vinson, Melissa Aldana, Matt Penman. Photo: Whirlwind
Penman in a pastoral sort of Belonging Band-like reverie is mighty at the beginning of 'Fable'. This little overdubbed passage is an album highlight in addition to the Vinson solo stuff on 'Things'. When Aldana comes in on 'Fable' the sound is a little way off, like someone walking towards you very slowly but never coming too close and which intrigues.
The J. Fred Coots/Sam Lewis song 'For All We Know' first introduced quaintly as a foxtrot by Hal Kemp and His Orchestra is again like 'Blue and Sentimental' a throwback to the 30s and where Harland's brushing is soft and reassuring.
So no bitching from us at all about anything on Tripwire as we slide into 'Resting Jazz Face' which is the place where the band have most fun and there's a boisterous joie de vivre as everyone locks in and Vinson and Aldana eventually turn up the heat.
All we need next is a Vinson Plays Cleanhead homage when there's a need to wail a bit more. A germ of an idea there for the A&R formerly beponytailed geniuses of the parish to ponder post-vindaloo at their next brainstorming session down the Dog and Duck.
Tags: