Joshing at the door beforehand with folks venturing in, talking about John Travolta and making certain moves that only geezers make when they shake off their inhibitions and indulge in the sweetest taboo, a bit of terpsichore, sadly still banned, pianist-singer Arthur Lea (out of the Royal Academy of Music and avant band Paragon) later taking the stand was beatboxing and standing up for New Orleans as the upstairs crowd began to filter in to kick off his first of three sets. The punter numbers were greater and prompter tonight than anytime since post-Lockdown that this blog has witnessed, reassuring in terms of the vibe and a return to what is usually the case in a very precious spot.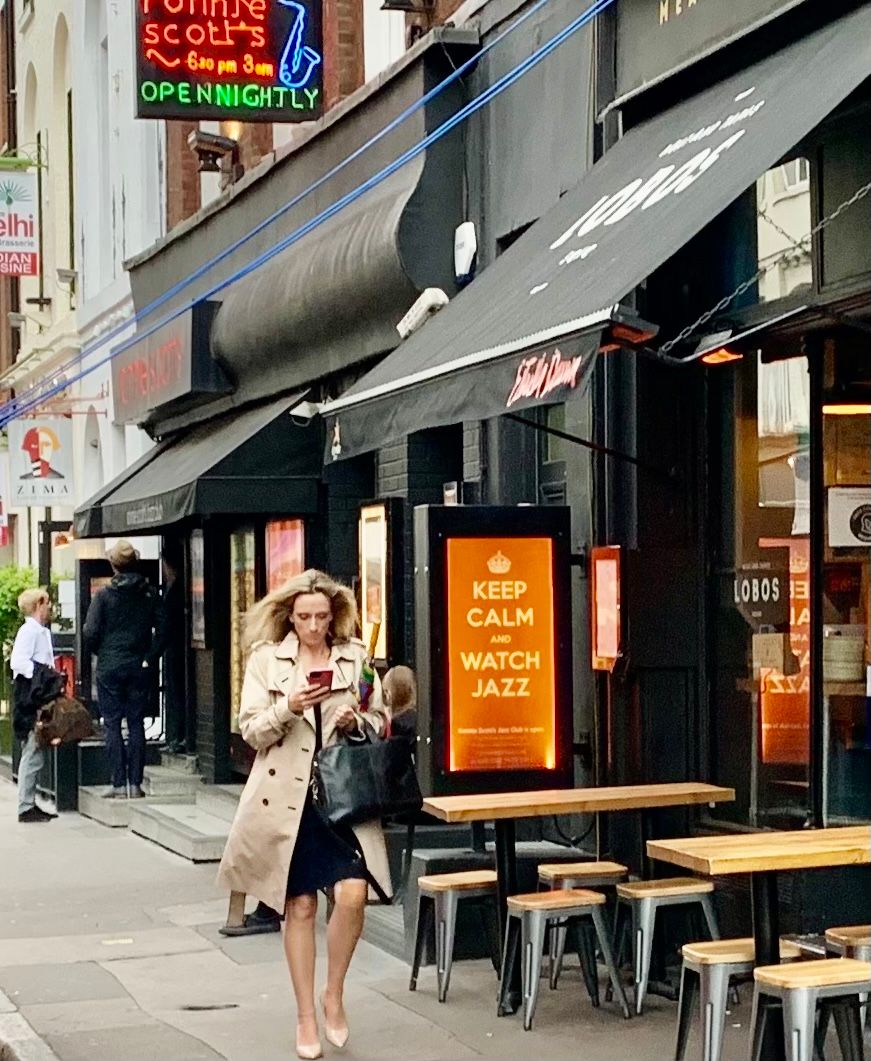 On Frith Street, walking the walk, talking the talk
It is certainly a great room upstairs that complements the main action below. Ray Gelato was on there doing his skilled Louis Prima show. Here, after the introductory welcome, Lea, last heard by this blog at the Spice over not far away by Cambridge Circus along with the fabulous Coalminers, soon struck up 'Blue Monday'. To be honest I was won over pretty much at that. It is rare that someone has the sheer gumption and skill in reserve to play 'Blue Monday', the Dave Bartholomew number synonymous with Fats Domino first recorded I believe by Smiley Lewis in 1954 and more to the point here so delicately.
The first two sets were understated which is always a good sign. We got original songs, travelling songs, a little Huddie Ledbetter no less and 'Alabama Bound'. Arthur fessed up that he hasn't been to Alabama so far although he has travelled widely in America and during the break told me about playing in New Orleans and simply loving it there. However a young gig-goer mentioned that she had visited the heart of Dixie, to the pianist's pleasure, and the crowd participation continued later with some communal singing and assorted bantz, talk of the great film critic Barry Norman, Billy Taylor, Nina Simone and Pat Garrett and Billy the Kid. Arthur's version of 'Billy 1' was beautiful.

During Lockdown Arthur said that one of his pleasures was playing with the Spitz Charitable Trust performing to care home guests along with among others Alice Zawadzki and he played a fun piece written for another Billy, a guest, gambler and inspiration, titled 'In it to Win It'. The initiative was featured on BBC TV News in a recent piece.
I liked the version of the Milton Delugg/Willie Stein song 'Orange Colored Sky' introduced by Nat King Cole in 1950 a lot, one of Lea's best treatments in a wide range of numbers. But there was even better to come later in the guise of a Billy Eckstine piece famously rendered by John Coltrane.
Some years ago I had the rare pleasure of chatting to the late Freddy Cole, Nat's brother, who was a fine interpreter of Eckstine (the singer and bandleader whose progressive orchestra members included a young Miles Davis) while he relaxed at the bar between sets down the Pizza over on nearby Dean Street. Freddy, a very pleasant person to chat to and in fine fettle that beautiful night, I am sure would have been tickled pink to have heard Eckstine played again in Ronnie's in this case 'I Want To Talk About You' which was just wonderful to hear.
Other overall highlights were some Big Bill Broonzy, the Dylan and a Tom Waits song with the best kept to last, Dr John's 'Such a Night'. Classy stuff overall. All in the audience seemed this summer solstice to lap it up like mother's millk. SG
Photos: marlbank
The Voodoo Lounge returns on Monday with Paddy Milner. Check: for details
Tags: