David Murray is one of the few living saxophonists who deserve the accolade ''a great''. This is not news.
What is news is that going on the second house last night at Oliver Weindling's Vortex jazz club in Dalston, Murray is still playing at the top of his game, strong and expressive in the volatile altissimo part of the upper register of the tenor saxophone and nimble and raw further down as he went for the bigger statement and explored the saxophone in all its possibilities.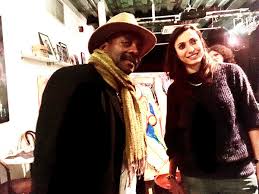 David Murray above with the painter Aurelie Freoua at the Vortex. pic. marlbank
At speed he makes complete sense and he switched between ferociously avant and into the mainstream best of all on 'In a Sentimental Mood' in all its emotional grandeur and the passionate 'Afro Blue' towards the latter part of the set.
The final piece went back to intimations of early jazz on 'Down by the Riverside' and the rhythm section were a stalwart and steady support for Murray who is now living back in New York.
Austrian band leader trombonist Paul Zauner goes back decades with David Murray and in Blue Brass bassist Wolfram Derschmidt and drummer Dusan Novakov completed the line-up.
Lead photograph: Roger Thomas
Tags: