The pick of these four covetable tracks is easily 'Passenger' drawn from Apia new as an EP from the Danish pianist Morten Schantz and his trio. The Apia tracks are to be included in the full album actually called Passenger which was recorded in a Copenhagen studio over three days in May 2020 and is out next month. Extremely melodic and accessible overall this is all intelligent music making in the sense of avoiding cliché and delivering clarity. The title track has more of a chamber jazz feel verging on the prog in the arrangement than the other tracks which are far more fixed jazz trio in style. Schantz stylistically if you strip everything down to little motifs and the odd riff or two if not of course licks is a little like Aaron Goldberg (Yes trio or see some of Goldberg's work with Joshua Redman) but reins in the funkiness a little more to map out his own style in his own terms. You get a certain melancholia towards the end of 'Passenger' certainly after the five-minute mark and so the complexion and mood of the piece changes interestingly. But overall Apia is not a morose listen. There is a lot in the 6 and a half minutes of 'Passenger' which says a lot for the piece's compositional skill in its provision of variety in terms of tonal shift and key changes. The overdubs are tasteful and add more apparent quasi-orchestrated depth to the raw sound. The main focus is the first class pianism and all round keyboards vision. Bass here is played by another Morten, Morten Ankarfeldt, and on drums it is Janus Templeton both familiar from Unicorn.
Schantz in 2017 released the moody Godspeed which picked up a few good reviews beyond the usual suspects. Anton Eger (Phronesis, Rkdia) is on that record as is the formidable Norwegian saxophonist Marius Neset. And three years before on a different label Unicorn - that compares more closely to this EP - had already appeared.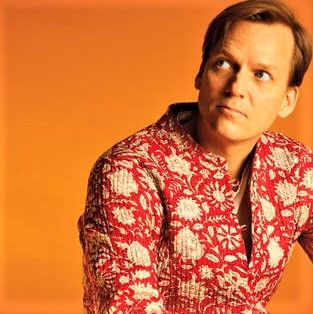 Morten Schantz
Apia track 'Hidden Island' has a very simple theme the circuitry of which is laid out rhythmically as if a diagram by Templeton who marshals the time very neatly. He is more bustling on 'Ankarhelten' while Ankarfeldt is funkier here. The Goldberg comparison plays even more of a discernible factor at this point of the reckoning. Perhaps overall there are too many sweet centres. And yet the trio to its credit are very good at flow and retain the interest throughout each piece.
As half of the very different Rkdia, Morten Schantz - top, detail from the Apia artwork - appears at Sounds of Denmark in Southampton on 14 September and Soho two days later. Click for details. Passenger is out on the day of the London show
Tags: