Ian Shaw, Iain Ballamy, Jamie Safir, The Yard, Manchester Monday 13 June
Dave Okumu, Pull Up To The Bumper, QEH, London Tuesday 14 June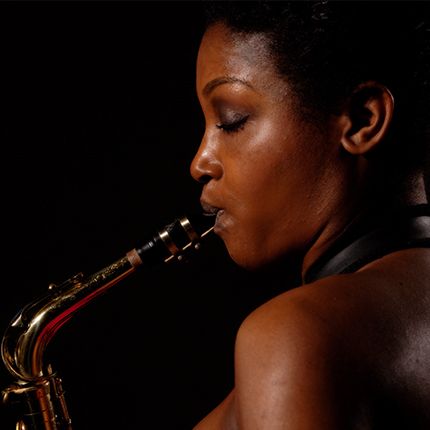 Camilla George, Hawk's Well theatre, Sligo Wednesday 15 June
PICK OF THE WEEK Alto saxophonist Camilla George playing at the Jazz Cafe last year was one of the best gigs we witnessed during that 12-month run. Spiritual Sligo is the best spot possible to kick off Camilla's extensive Irish tour that runs until the 26th. Even before Camilla's 2017 debut album Isang when the saxist was playing with Jazz Jamaica and follow-up The People Could Fly, the jazzer distinguished herself in a specific space, a little Tia Fuller-like with her distinctive timbral dexterity but more to the point feeding her own Nigerian Eket heritage into the mix. Renato Paris on Nord keys and a fine Stevie-esque singer who can also vocalise like he's a horn player will be playing Sligo in Camilla's band and the combination is completed by ace bassist Jihad Darwish and Jazz Jamaica drummer, the great, Rod Youngs.
Buster Williams quartet, Ryan Quigley, Georgia Cécile and many more, Glasgow Jazz Festival, Thursday 16 June - Sunday 19 June
Young Pilgrims, The Crossing, Birmingham Friday 17 June
Young Pilgrims made a splash last year on the Birmingham label Stoney Lane, a brass fantasy of an affair and fresh with it including a cracking Kieran McLeod arrangement of Gene McDaniels classic 'Feel Like Making Love'.
Simon Purcell's Red Circle, Vortex, London Saturday 18 June
2014's Red Circle was a beautifully gathered studio recording illuminated by 'Ithaca'.
George Benson, St David's Hall, Cardiff Sunday 19 June
Dave Okumu, top, plays Grace Jones' Meltdown on Tuesday. Photo: Morgan Sinclair
Tags: reviews