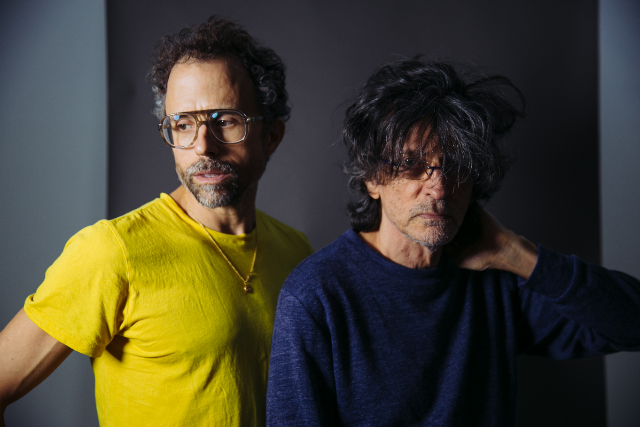 Speaking on the phone from his Tribeca home studio, ''south of SoHo, west of Chinatown'' where he has lived for a long time and where new album Surpresa was ''100 per cent made,'' Jesse Harris, the 'Don't Know Why' songwriter, singer, guitarist and bandleader who had incredible success in the early new millennium with the timeless song that he wrote and was sung to vast exposure by Norah Jones, was talking at noon in New York. And by the time we speak for a brief chat he had been up and already played his guitar. He was anticipating rehearsing with his friend Kenny Wollesen, who played drums on 'Don't Know Why' later in the day.
Gigging he says with understatement has been ''sporadic'' recently. ''In the fall I was with Melody Gardot doing promotional TV and radio in Europe'' and again recently he was playing in the singer's band ''doing concerts this summer in France''. While playing in Gardot's band is relatively new to him he has co-written songs with Gardot including 'Our Love Is Easy' and 'The Rain' that appeared on Gardot's 2009 classic album My One and Only Thrill.
Harris, who is 51, often co-writes songs with other people now but in the early days he used to write by himself and it took a long while to adapt to that change. This writing with other people he says was a factor after winning Grammy song of the year in 2002.
New album Surpresa with the great Brazilian singer-songwriter and guitarist Vinicius Cantuária is full of extraordinary songs including opener 'Waiting' which is as good as you will hear anywhere in 2021 for its concision and wisdom. While the lyrics have a universality to them the song may on some level be regarded as emblematic of the Lockdown malaise experienced globally this last 16 months and more. It resonates.
On the album Gardot features with harmonies on 'How Long' and the title track. The Gilberto Gil song 'Ó, Maria' is sung in Portuguese by Harris.
Harris says he has been working with the Paris singer Gabi Hartmann, also on the new album, who he says likes Barbara, for a few years and wrote and produced her single 'Always Seem to Get Things Wrong'. She has also translated some of his songs into French.
On Surpresa song 'Colibri' guitar great Bill Frisell features. Harris also has in the past produced two albums by a new icon of jazz, guitar genius and Frisell's fellow Blue Note labelmate Julian Lage.
Instrumental 'Little Star' is a big highlight of Surpresa and the album comes to quite a considerable close with a new version of 'You, The Queen' a song that Harris recorded with his band the Ferdinandos and that closed 2003's The Secret Sun. Harris says: ''Vinicius loved that song.''
On 'Waiting' the wisdom of the Harris lyrics is the clincher on top of the Simon and Garfunkel-like serenity and the angelic harmonies that the piece manifoldly provides. A dark song fundamentally 'Waiting' is perfect in its conveying of unease and channelling of a certain fear inherent in that emotion. A song that distils down to a discernible need for self-realisation in the face of unknowable hope, it is clearly an instant classic.
Harris explains that ''from a young age he loved writing short stories'' and later after studying English at the Ivy League Cornell University in Ithaca, New York state, where he says he was a ''really poor student'' swapped these stories for songs. As a guitarist he says he gravitated towards Bob Dylan, Neil Young and Joni Mitchell, and listening to jazz was in the air because his dad liked Frank Sinatra and Miles Davis.
On the record his guitars include a Martin 1969 using nylon strings and a Gibson Les Paul. He knows Vinicius from New York and working together in Rio. Harris sings on Vinicius Cantuária album Indio De Apartamento on a song they wrote together, 'This Time'.
Surpresa guests in addition to Gardot, Frisell and Hartmann include horn arranger CJ "Carm" Camerieri, who Harris mentions has worked with Paul Simon, and there is also percussionist Jeremy Gustin and Will Graefe. Carm is in Harris' band Cosmo and goes back to Watching the Sky days (2009).
Writing, Harris says can be anything now ''sitting in a room with somebody'' or not. And it can involve assuming a specific role with the overall task completely divided up between a lot of people. He mentions a writing session where a ''person is doing beats or the melody with five people on a song''. In his early days he says he couldn't imagine doing that. Avant jazz icon John Zorn has asked him to do specific things for him on his song project for instance writing lyrics. Harris mentions speaking generally about a recent project doing a ''three hour session on WhatsApp'' going away and coming back after ''working up ideas''. He says the lead-off Surpresa song 'Waiting' came very quickly. It was written while sitting on the back deck of a house that he has. During Lockdown he says he was able to travel a bit appearing with Gardot but he did miss his long distance relationships.
Towards the end of the half-hour conversation fanning it out I ask how he relates to Pat Metheny covering 'Don't Know Why' as he did on his 2003 album One Quiet Night and he says that he found that ''really exciting'' given that as a teenager he was a fan of Metheny's. Time's nearly up on the chat.
Before saying goodbye asked about Brad Mehldau covering a song of his he tells me interestingly that his first demo on a cassette housed in a box somewhere only these days tantalisingly features Mehldau on an electric piano that ''didn't have even a sustain pedal''. Mehldau Harris has known since he was 21. Mehldau later covered Harris song 'Never See You' that was on the soundtrack among other Harris songs covered by different artists on the 2006 Ethan Hawke film The Hottest State. That demo would certainly be a find to use a Harris coinage waiting to see the sun. Stephen Graham
Surpresa on Sunnyside is out on 20 August. Jesse Harris, top photo: Bandcamp and above with Vinicius Cantuária, press shot, who he appears with plus guests at the Blue Note, New York on 23 August to launch the album
Tags: