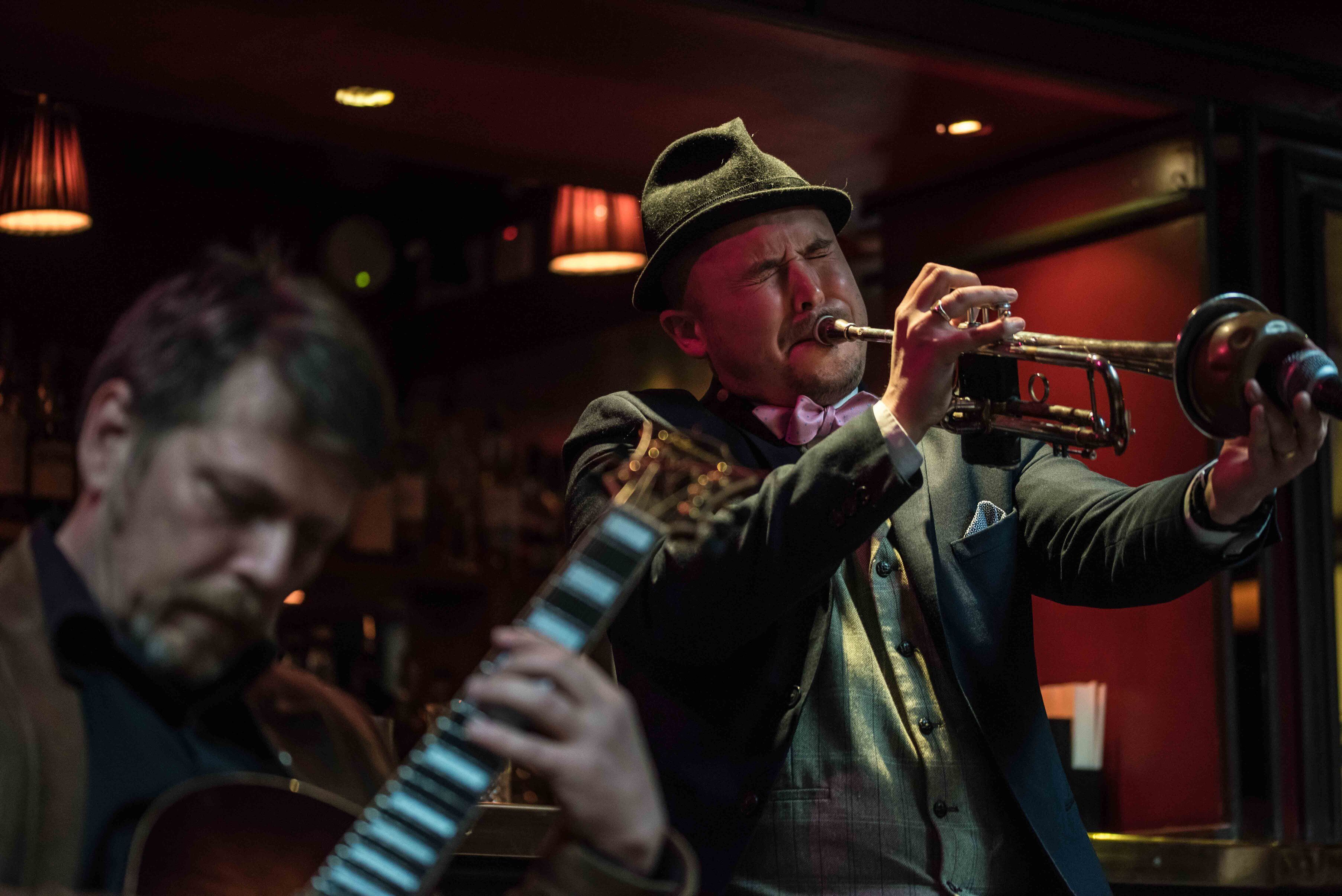 Opening with the Harry Warren song 'There Will Never Be Another You' as an instrumental in this big archtop electric guitar and trumpet setting you can't not but hear in your head snatches of the Mack Gordon lyrics: ''I may dream a million dreams/But how can they come true/If there will never ever be another you?''
Horn Culture is the relatively new name for the Wednesday night upstairs session at Ronnie's named after the 1973 Milestone Sonny Rollins album Horn Culture, a fact imparted by Ronnie's booker Paul Pace speaking last week in this very spot explaining the name.
Trumpeter Andy Davies has been running the night new name and all for 12 years and here on this occasion in a stripped-back version appearing with Nigel Price as a duo. Usually the band is at least a quartet plus guests and at a later time slot in the evening but for now Davies was more than glad to be back and in so doing playing his first gig since December. These ''million dreams'' he performs week after week land at the heart of the Great American Songbook and bop traditions.
Price, from Epsom in Surrey, has a new Wes Montgomery-themed album Road Song out next week, and as the Warren song unpeeled his walking lines sauntering up and down the frets were a confident brand of jay walking delirious in their know-how.
Davies told the audience that it was good to play to ''actual people and not just to my two cats'' and alerted us tongue in cheek to the fact that he was a Swansea South Wales Evening Post 3-times jazz winner.
The jokes kept on coming. ''Requests? Keep them to yourselves''. Later he relented and accepted one, bop novelty 'Salt Peanuts' as it happened to murmurs of delight.
The duo moved on to the blues, an E flat blues Davies told us, the Welshman switching to flugelhorn and a Clifford Brown number 'Sandu' that you don't often hear. Jobim's 'Wave', with Davies on flugel, also featured on the first of three sets. Davies mused that the band were ''usually a quartet'' and the night has always been kind of fun involving he parlayed amusingly ''drunk people sick on the stage and that's just the band.''
The duo moved on to 'The Nearness of You' ''popular in Wales'' as is the minor key (his best joke of the evening) Davies playing Harmon mute and in using it discovered some lovely sludgy tones deep down in the register. Also on a Welsh theme during the evening we even got a little audience participation featuring a portion of the wondrous Welsh national anthem 'Mae Hen Wlad Fy Nhadau' often heard stirringly at top rugby matches.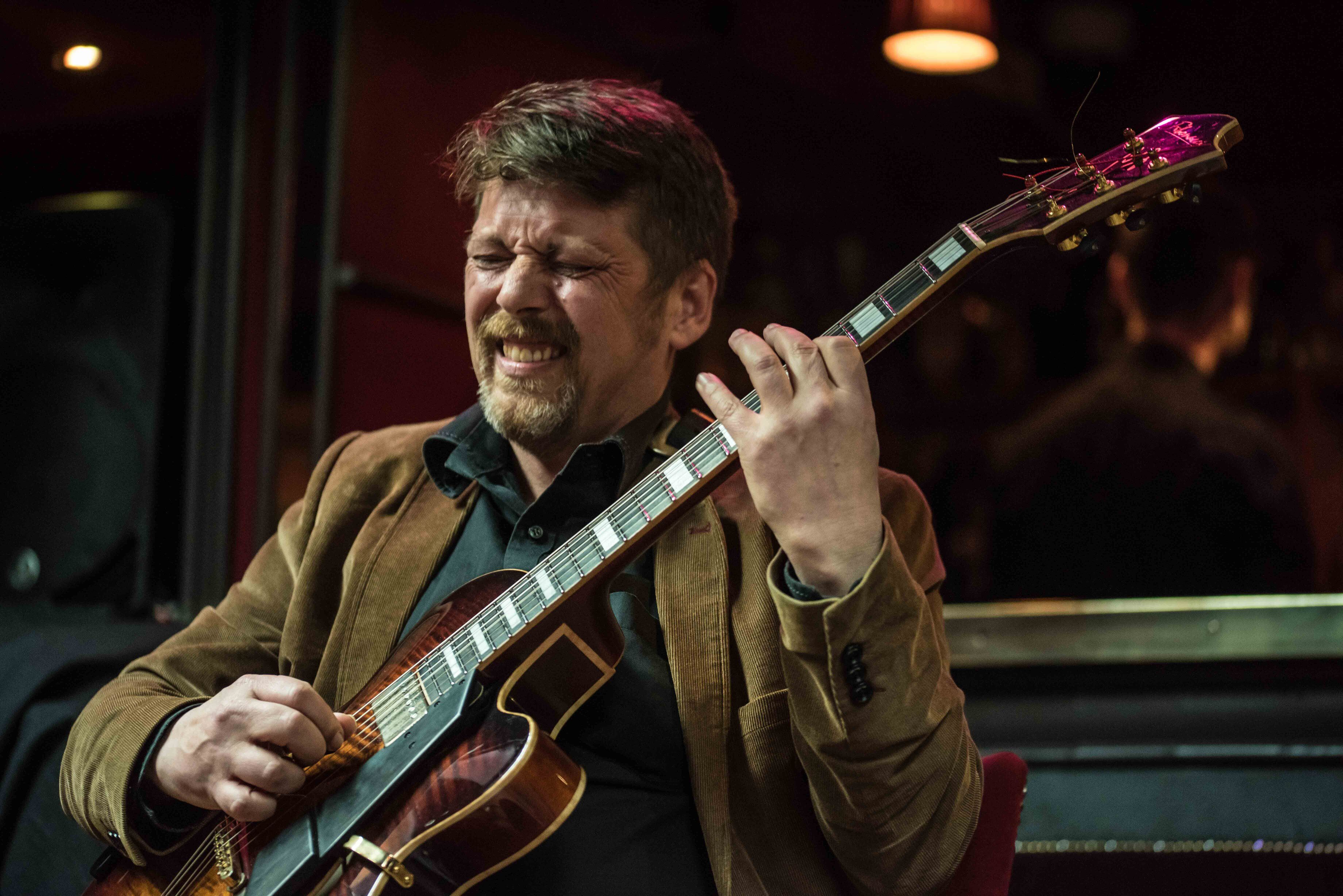 Perhaps a little ring rusty at the beginning Davies however found his mojo as the set went on and certainly from the appearance of 'Cherokee' did not look back. There was duo chemistry in abundance on the Mingus classic 'Nostalgia in Times Square'. Andy's hat a couple of times was utilised as a mute. Made by one Pierre in Paris (''you know him down by the river, he's inSeine'') the dinky trilby came in useful for badinage as well as sartorial and musical reasons. Later birthday girl Maria, a tall blonde woman sitting in an alcove where the band usually play, was serenaded by the audience as the band tore into 'Happy Birthday'. Towards the end while Andy wanted to go into 'On the Sunny Side of the Street' his fingers initially roamed to Duke Ellington's 'Don't Get Around Much Any More' which didn't actually matter. It just added to the gaiety and laidback appeal of the occasion.
Stephen Graham
Nigel Price and Andy Davies at Horn Culture last night photos: Monika S. Jakubowska
Tags: