Westerdays. But jazz-time defies the known laws of physics soaked all over as it is in overwhelming waves of retro flavours, a backwards and forwards shuffle and suddenly it's the tunes of tomorrow no matter how faithfully rendered or not they again somehow become in overlapping cycles. As we all know or should there is nothing new under the sun and some things do not date if ending up in the right hands. Better believe it. And yet while ''faithfully yours'' could be a subtitle here or a sticker on a battered suitcase tied up with stringy shoelaces there, yes most sincerely having heard Nigel Price a couple of times in relaxed circumstances upstairs in Ronnie's, hopefully he'll be back soon, usually heard with Andy ''Swansea'' Davies, you know a master is at work when you creep up to be near the stage, more the floor as it is there, or just stand harmlessly as close as you can without making an absolute tit of yourself. You do a quick double-take and suddenly you are walking in the night in the 1950s and a door opens and you have found yourself by the sound of it in the Missile Lounge in Naptown. More to the point Wes is on.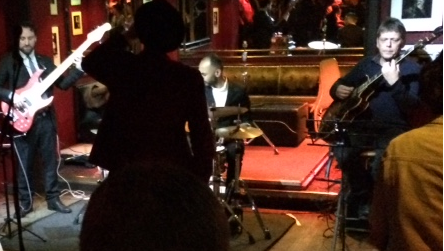 Nigel Price in an up-the-stairs-to-Bedfordshire late spot at Scott's
Lately I have been listening to a fair few classic Wes records because of Russell Oliver Stone's very fine and groovy complementary project Full House. The difference there the presence of ROS' very good vocals factored in and Mitch Dalton does the business, understatement of the day, just like Nigel here on Wes Reimagined. Fine Hammond organist Ross Stanley plays the part of Jimmy Smith best on 'Road Song' and unless insanely distracted who could resist such a stunning rendition? It's up there with Craig Handy's New Orleans-soaked treatment back in 2013 done very differently with, recalling that wildcard setting, a sousaphone. The whole experience of listening to this one track transported me back to hearing The Cat himself at Hammersmith Palais in the 1990s when the considerably-great jazz writer Richard Cook then jazz guv'nor at PolyGram, was seen beaming like a Cheshire himself, not a regular sight to often behold on his boat race, as he toured the massed ranks of the jazzhackerie sat around mainly on stools upstairs over beverages delighted at what we had just heard. That was one of the happiest jazz experiences of my life hearing Jimmy Smith and the closest I ever came to divining the spirit of Wes given how Jimmy and Wes made jazz history in their day built on massive musical chemistry. Nigel has come up with a superb tribute to a sound that still means a lot and manages to keep the wick suitably lit. The Price is right.
Tags: