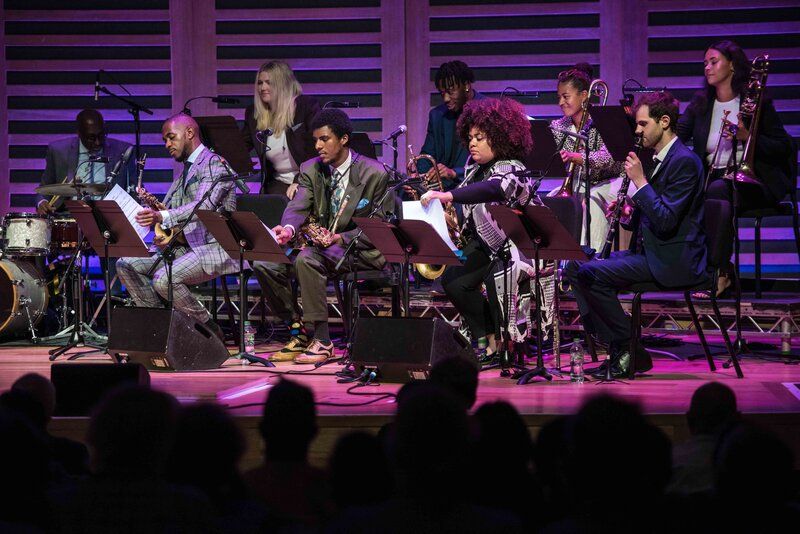 Playing Joe Harriott material in this tribute the Nu Civilisation Orchestra led from the piano, conducted and musically directed by the elegant Peter Edwards this was one set with 'Formation', 'Modal and 'Straight Lines' the first pieces. Tap dancer Annette Walker came on as a surprise guest.
The band was an 11-piece plus visuals projected in Hall 1 of the King's Cross, London, concert hall at the back over head from Catarina Rodrigues who was, as Edwards told us, ''part of the band''. Of the instrumentalists notable contributions came above all else in the Harriott role from one of the UK's greatest altoists Empirical's Nathaniel Facey who was simply superb, probably as good as I've ever heard him and he always sets the bar very high. In one free improv bit for instance when the band went very free he was quoting from Ornette Coleman and his soloing was generally scalding, intense and very gripping throughout. Harriott was one of the first free-players to adopt the language of Ornette although arriving with his own conception of abstraction independently in the 1960s by moving the sound on from the revolutions of Charlie Parker and adding an occasional Caribbean flavour.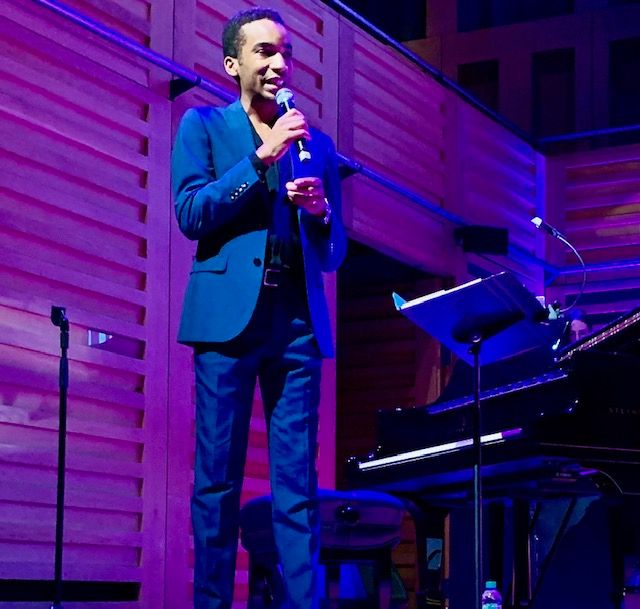 On tenor saxophone Xhosa Cole had less to do but when he broke free the contrast was graphic given his very different timbre and sense of timing. Scottish trombonist Anoushka Nanguy was excellent coming through more in the arrangements as the concert developed and Will Gibson on flute and clarinet, but particularly flute, had a lot to do and the way the arrangement gave contrasts between flute and baritone sax (played by Chelsea Carmichael who added some fine lines to the sax section voicings) was an astute piece of judgement by Edwards in shaping the Harriott body of work.
Crisply conducted by Edwards, above, Harriott's music has a lot of complexity and still sounds ahead of its time all these years on. The skill here was to make it communicate and give the players room to roam beyond the charts.
Tap dancer Annette Walker performed with Nathaniel Facey, bassist Hamish Moore and drummer Rod Youngs within the ensemble in a featured number.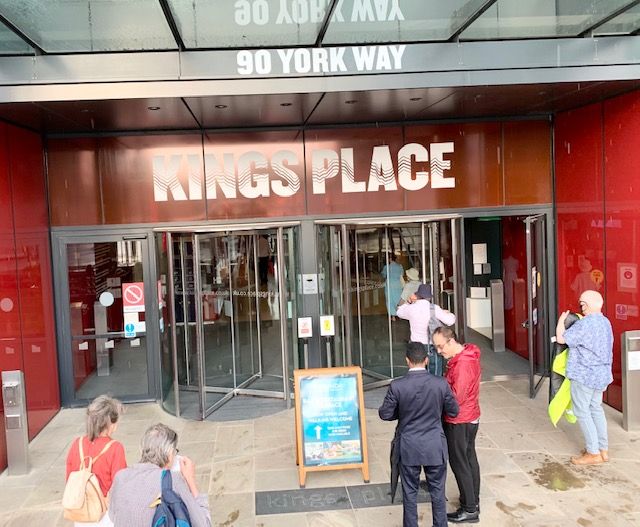 Youngs gave the band a lot of oomph and this was a fine performance by the Jazz Jamaica player. 'Idioms' came off very well towards the end with Harriott's 'Calypso' the perfect way to end. SG
Nu Civilisation Orchestra main photo: Monika S. Jakubowska/Kings Place
Top left-to-right from back: Rod Youngs, Becca Toft, Ife Ogunjobi, Anoushka Nanguy, Hanna Mbuya; front row Nathaniel Facey, Xhosa Cole, Chelsea Carmichael, Will Gibson
Tags: