Free-jazz fans take note because early listens to 2 Blues For Cecil suggest that this trio record from three icons of the avant-garde, the Italian trumpeter/flugelhornist Enrico Rava and Americans double bassist William Parker and drummer Andrew Cyrille, will consummately set the agenda for the beginning of 2022.
All three played with Cecil Taylor named in the title of this TUM label homage recorded in a Paris studio over two days back in February.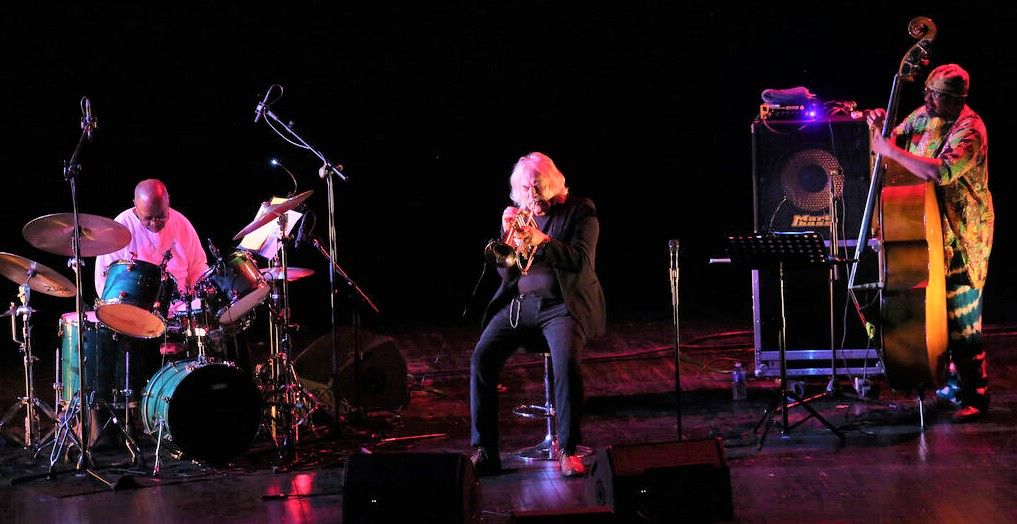 Andrew Cyrille, Enrico Rava, William Parker, above
Tracks are: 'Improvisation No. 1,' 'Ballerina,' 'Blues For Cecil No. 1,' 'Improvisation No.2,' 'Top, Bottom and What's in the Middle,' 'Blues For Cecil No. 2,' 'Enrava Melody,' 'Overboard,' 'Machu Picchu' and a version of the 1930s Richard Rodgers and Lorenz Hart classic 'My Funny Valentine' forever engraved on the hearts of jazz fans by Miles Davis on the trumpeter's 1965-released live album of the same name. The open, loose, poetically oblique Cyrille, Parker and Rava treatment of 'Valentine' is pretty staggering to be perfectly frank. Release date is 21 January. We'll bring you a full review nearing release time.
Photos: Luciano Rossetti
Tags: