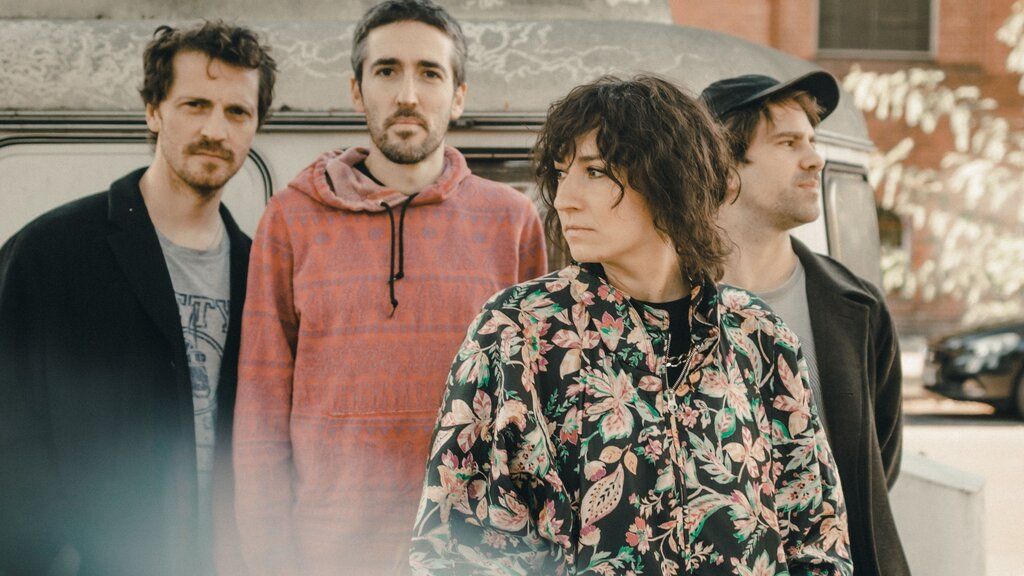 Berlin based Swiss experimental art-jazz singer Lucia Cadotsch here with the UK piano trio of pianist Kit Downes, bassist Phil Donkin and drummer James Maddren plus guest Heartcore label boss US guitar icon Kurt Rosenwinkel on the tracks 'Bitter Long Lying Leisure' and 'Medusa's Champagne'. Maddren explodes the beginning of the 'Bitter' track like the aftermath of having lobbed a grenade into an inert puddle of absolute calm. And Rosenwinkel's hugely bluesy pas de deux with Cadosch on it has a John Scofield quality sense of poise. You can feel the flow - and that is a factor throughout AKI.
Most of the songs on an album that celebrates many facets of iconic female strength and role model empowerment here are Cadotsch and Downes co-writes while Donkin wrote the track 'Naked and Numb' sequenced right at the end of these succinct and highly intoxicating songs. The album also features a reimagination of the Bertolt Brecht and Kurt Weill murder ballad 'Ballad of the Drowned Girl' (in German 'Ballade Vom Ertrunkenen Mädchen'). Brecht was inspired to write by the murder of the Marxist revolutionary Rosa Luxemburg during the suppression of the Spartacist Uprising in Berlin in January 1919 and known in a classic low toned - by then far from soubrette - version from the mid-1950s by the Vienna born icon of the 20th century - Lotte Lenya (1898-1981).
A 10th album in a much acclaimed and Deutscher winning career so far, Cadotsch is very unmannered and natural as a singer attuned to the canvas where improvisers are most at home. Donkin is hugely listenable to in his opening solo on 'Brother II'. Highlights also include Downes' luminous introduction to 'Lily of the Nile' and scampering warp speed brilliance on 'I Won't'. In all there are at least three winning elements here: the Rosenwinkel tracks, incredible band rapport and persuasive faraway vocals.
The ghostly multi-tracked backing vocals response on 'Secedas' is one of the best arranged features in terms of impact and to-and-fro across pillar to post from singer to trio. Here Downes and Maddren's rapport with Cadotsch can be happily appreciated alongside their work with another fine very clued up jazz singer, Sarah Gillespie. Best of all on AKI is the room to roam experimentally in terms of extended soloing that illuminates rather than crowds out the core quality of the songs in all their intricate beauty.
If you have an inescapable urge to make a playlist - and many do! - definitely listen in tandem especially if going completely Weill to Theo Bleckmann's fine work with Julia Hülsmann A Clear Midnight released back in 2015. That approach sits snug and apposite when lingering long in this great and considered head space but it only represents a fraction of what the AKI sound manages to break other ground with here. SG
Phil Donkin top left James Maddren, Lucia Cadotsch, Kit Downes. Photo: via Heartcore
Out on 26 May. 'I Won't' is streaming.
MORE READING AND LISTENING:
A review of Lucia Cadotsch at Jazzahead - the singer appeared as part of Liun + The Science Fiction Orchestra performing in the Schlachthof - read more here
Tags: reviews