With his own superb quartet album Incontre and Gilfema's Three released earlier in 2020 bassist Massimo Biolcati in New York is working on some brand new projects at the moment. As for Three, discussed in these pages earlier in the year, it is one of the very best albums that marlbank has heard all year, an album Biolcati produced as well as played on. The band is soaked in Afrojazz and a deep understanding of the blues splicing it all with a progressive jazz sensibility delivered in the moment. Looking ahead to his 2021 releases, Massimo explains more about his latest recording sessions and describes his thoughts on what has been for all a highly challenging Lockdown year
About the new project with Leo Genovese and Ferenc Nemeth referenced on your label's Twitter feed this week, can you discuss progress so far and what the concept overall is?
This was the latest recording session I did in a series that has been going on throughout the year. I'm working on two releases under my name. One is in a more traditional acoustic quartet format and the other leans more toward groove-based rhythms with some use of synths. The session with Ferenc and Leo belongs to this second category. Leo played, piano, Fender Rhodes and a Prophet synthesizer. I wrote some music based on ostinatos and fun bass-lines where Ferenc could come up with interesting grooves. I play acoustic bass on all of this. There will be a second session for this project in January or February but I haven't completed all the music and I haven't decided on the musicians yet.
All the material for the other project has been recorded and features tracks from three different quartets: myself with Jaleel Shaw on sax, Lex Korten on piano and Clarence Penn on drums; myself with Phil Dizack on trumpet, Kevin Hays on piano and Kendrick Scott on drums; myself with John Ellis on sax and bass clarinet, Mike Moreno on guitar and Rodney Green on drums. The idea was to bring together some of my favourite musicians that I've been playing with through the years and record a variety of music. A few standards, some arrangements/covers of popular tunes, and the rest being original compositions of mine.
@MassimoBiolcat_ and @FerencNemeth i.e. 2/3 of GilFeMa getting some studio time. https://t.co/KNYnLZj1Yu

— Gilfema (@gilfema) November 24, 2020
What studio are you in and what sort of material are you playing? Will the sessions go on for some days or be relatively brief?
Each session so far has been a single full day event. The quartet stuff was recorded at Bunker Studios in Williamsburg and the trio at Eastside Sound in Manhattan.
Why do you think that a trio is a strong vehicle for improvisers?
I love playing in trio because the level of interaction can be so high with the right musicians. With fewer elements to the sound palette it's easier for each musician to react and respond to all that happens in the music and it makes it incredibly fun and organic. The charts and arrangements can be much simpler and with fewer instructions. In fact for the trio with Ferenc and Leo, a lot of the material was only sketches that we developed together in the studio.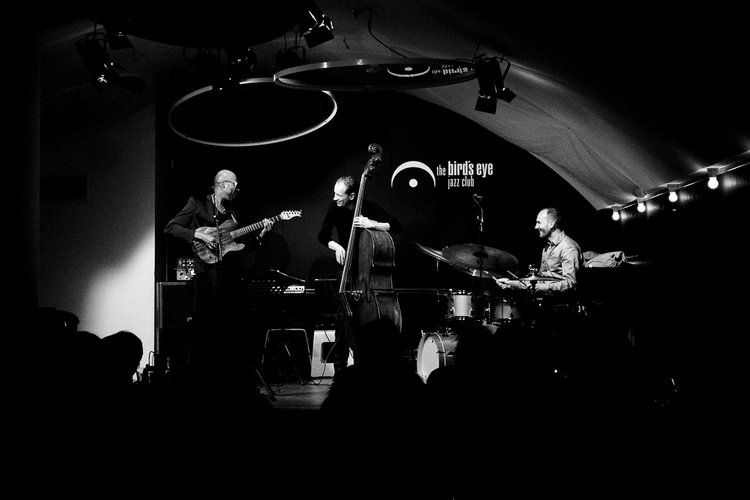 Lionel Loueke, Massimo Biolcati, Ferenc Nemeth: Gilfema
With Gilfema given that you have been together so many years are there factors in your rapport that playing for such a length of time is only possible to achieve? If so what do you think these factors are?
Yeah, playing together for so many years makes a huge difference. Starting back in 2000 when we were in school at Berklee College of Music together and even more in the Thelonious Monk Institute of Jazz in Los Angeles, we had a lot of time to play together each day and experiment with various ideas. Then for the following 15 years after school we have been playing together so much that we now have a sort of common musical language that we can tap into when we play.
This common language lets us improvise together in a seamless manner where we can change direction all together like a flock of birds moves as though they were one. It's an incredibly rewarding feeling to experience.
What other projects do you have in mind for the first half of 2021 particularly in the studio or streaming ''live''?
I have to finish recording and edit, mix and master all the music I already recorded and release the two projects. I've done a few live streams but it's not as fun to play when you don't receive and feedback from the audience.
Regarding this Lockdown year has your approach to music-making changed radically. If so how? If not how have you managed your usual routine?
No concerts and no tours has been and is a terrible situation for all musicians. I've been fortunate to have been able to stay afloat financially and I have used the free time to practise and work on the music for the recordings.
Practising for weeks on end uninterrupted by gigs and sessions has been eye-opening. I have been able to iron out some bad habits in my technique which in normal circumstances wouldn't have been possible.
In a live situation you open your ears and let your body do what it needs to do to get the sounds you're hearing. If you have developed some bad habits, they are not going to get corrected on the band stand.
In the practice room, you can slow down things and there is no pressure to play loud and fast so you can slowly rid yourself of bad habits and develop new good ones.
Massimo Biolcati, top. Photos: YouTube and massimobiolcati.com
Incontre and Three are out now on Sounderscore Records
Tags: