When you put on this album you think virtuosity with a capital V and any number of guitars sitting on the stage is never enough. But so what? Jazz is a very virtuosic music. That über-competence, flair and technical skill have always been the way with Guildford based Swiss guitarist Nicolas Meier and English guitarist Pete Oxley - the latter a doyen of the incredibly well curated Spin weekly jazz club scene in Oxford down the years. Mercurial Indigo compares among other facets of Meier's back catalogue most closely on certain levels with Chasing Tales but it is even more a visceral and pleasurably cathartic mindfuck. And years on from that release the two guitarists' work together is even more intense and culturally diverse stylistically. Paul Cavaciuti's drum style certainly gives the overall sound a busy frantic air and he grooves very well on 'The Surging Waves.'
Bassist Raph Mizraki, also a Spin scenester gigging down the years, has his work cut out given the massive amount of time switching and highly syncopated routines that navigate jazz-rock (in a vein practically patented by John McLaughlin) and world fusion even to the outer suburbs of prog and proves an able referee when Oxley and Meier wig out so much the syrup store is completely dry and they go too far and need to be hauled back. The Mizraki beat - yep you might be thinking of isolating the sound of the late Rick Laird on the wheels of steel afterwards if playing a few more records - on Meier's 'Crossroads' is one of his best contributions.
Highly professorial in a not-at-all dandruff speckled way you get a feeling for the sheer passion the guitar geeks manage to conjure on this burning studio album recorded in February. And there is a level of composition at play as potent as anything they have done so far. While some jazzers merrily fake away their technical limitations necessarily to hide any blemishes in plain sight at the service of the greater good, the Mercurial Indigo dictionary has all entries for ''F'' apart from ''Formidable'' torn out. If you happen to be a guitar player, time to choose a new instrument perhaps or disappear for months to the shed to get your chops together a bit more as few can get anywhere close to what these two can do when they are in full flight.
Tunes are by each of the leaders - Oxley uses jazz guitar, a nylon 7-string, nylon & string guitars, sitar guitar, a 12-string and an E bow electric. And while on the giddying array of axe power at the players' disposal, it's as if the maître d' in Monty Python's The Meaning of Life suggests to Mr Creosote happily making a glutton of himself when we get to E bow ''And finally, monsieur, a wafer-thin mint'' - while Meier restricts himself more parsimoniously relatively speaking to nylon fretted & fretless string and steel string models. Highlights? Cut a rug to the shuddering surrogate boogie of 'Rainbows' - feel the Mediterranean sun you'll swear you'll tan to on 'The Pulse.'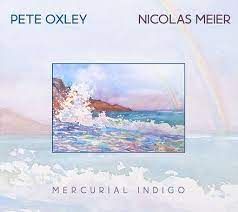 Out in May. The Oxley Meier Guitar Project play Ronnie Scott's on 24 May and are on tour this spring
MORE READING AND LISTENING:
The Oxley Meier band, photo: MGP
Tags: reviews