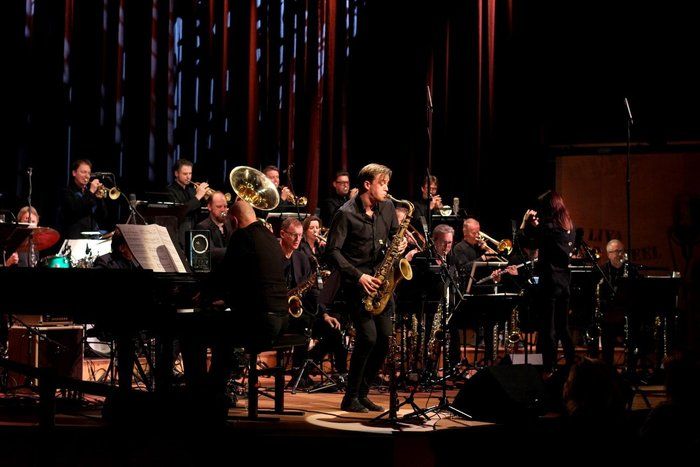 Norwegian saxophonist Marius Neset who appeared at the Proms last year, Indojazz-rock bass guitarist Shez Raja from the Wirral now based in London and appearing in Liverpool with saxophonist Tony Kofi, relatively unknown quantities Devils of Moko and Euro jazz trio Dock in Absolute are among the acts to perform at February's Liverpool International Jazz Festival.
Luxembourg's bafflingly monikered Dock In Absolute reveals pianist Jean-Philippe Koch's approach comparable to his fellow countryman Michel Reis going by the sweep of the lush involving tunes on the piano trio's 2019 album Unlikely.
Raja's 2021 album Tales of the Punjab was characterised by Raja's attractive and highly accessible virtuosic fusion sound built from the ground up out of 1970s-style Mahavishnu-like fusion and a Punjabi flavour. His earlier album Gurutopia saw the bassist joined by jazz-rock fusion giants Mike Stern and Randy Brecker who had guested with this most scintillating improviser on the record.
The full Liverpool line-up at the time of writing is looking like: Milap Indo Jazz Club (Thursday 23 February), Adee Lifshitz & Phil Shotton Quintet, (Friday 24 Feb, lunchtime free), Devils of Moko (Fri 24 Feb), Dock in Absolute (Saturday 25 Feb. lunchtime), Hope Swings Eternal (Sat 25 Feb, afternoon, free), Shez Raja featuring Tony Kofi (Sat 25 Feb), Liverpool Sax Day (Sunday 26 Feb, from 10am) and Marius Neset Quartet (Sunday 26 Feb). The festival run by Liverpool Hope University began a decade ago and centres on the university's Capstone Theatre.
Shez Raja main image (photo: press), Marius Neset above, photo: ACT
Tags: