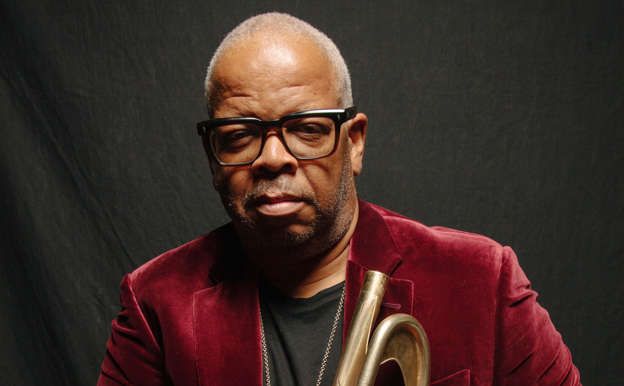 Speaking on the phone earlier from Los Angeles, ahead of his New York show with the E-Collective and the Turtle Island Quartet later in the week and the imminent release of Wayne Shorter homage Absence trumpet icon Terence Blanchard recalls his tenure in Art Blakey's Jazz Messengers in the 1980s, a stellar band that Shorter himself played in decades earlier. ''Wayne definitely put his stamp on the Messengers,'' says Blanchard, 59, whose opera Fire Shut Up In My Bones is the first by an African-American composer to be staged in all its history by the Metropolitan Opera in New York.
Absence the E-Collective's first record since Live three years ago has a deep Shorter resonance with a generous selection of inspiring work by the jazz giant who will turn 88 just days before Blanchard's record is released. Absence features Shorter, Blanchard and E-Collective pieces whose bass guitarist David Ginyard wrote the title track. Shorter tracks included on the album are 'The Elders' (featured on Weather Report's 1978 album Mr Gone); 'Fall' (on Miles Davis 1968 album Nefertiti); 'When It Was Now' (on the 1996 Wayne compilation This is Jazz Vol. 19); 'Diana' (on both Wayne's 1975's Native Dancer and the 1997 duo album with Herbie Hancock, 1+1); and 'More Elders'. Tracks written by E Collective members and the Turtle Island Quartet's David Balakrishnan make this a significant statement and the E Collective's most considered album to date. Blanchard says what appealed to him most was ''the thing about Wayne was what he did with melody''. Choosing tracks from Wayne's huge body of work he says wasn't ''meant to be representative''.
And of course it's not the first time that Blanchard has covered Wayne tunes (for instance he covered 'Footprints' on 2003's majestic Bounce). But this is a deeper dive given the quantity of Wayne pieces included and the way the music is arranged with simpatico strings enhancing the core sound allowing light and air to match the sheer poeticism and elegance inherent in Wayne's writing. Listening now all these years on and continuing his love of Wayne's music Blanchard says ''I can understand more aged nearly 60 myself. There are things you learn that were impossible to hear in my twenties.''
As his little dog joins the conversation barking in the background he talks about what Wayne means by ''daring,'' indicated by Terence's sole composition contribution, the deeply stirring anthemic, 'I Dare You'. He says it means ''taking chances.''
''Wayne had this uncanny ability with harmonics and melodies, a way of adding a bar and throwing off the metric cycle by taking chances and putting together combinations.''
While Blanchard says that his own writing on Absence has not been inspired by 'Pegasus' (one of Wayne's late great chamber works on both Without a Net [2013] and Emanon [2018]) he refers specificially to 1987 album Phantom Navigator and also to the earlier Adam's Apple (1967) on which 'Footprints' magically appeared. Blanchard explains that the band compositions on Absence are not trying to be Wayne but about the individual composers bassist David Ginyard and guitarist Charles Altura from the E Collective ''being themselves'' and ''following in his path''. The E-Collective is about giving space for ''innovative ideas''. He says that he doesn't ''switch off'' different parts of his brain if pivoting between jazz, movie writing and opera.
''You've got to open up avenues and tell your story. It's not about shutting anything down''. He says that composition is about evolution as ''we are evolutionary beings.'' He believes in ''embracing the unknown.'' Lockdown he says has been traumatic for the loss of his teacher pianist and New Orleans jazz patriarch pianist Ellis Marsalis and fellow trumpeter Wallace Roney. But he valued his family time. ''It was a mixed bag but we are blessed.'' Interview: Stephen Graham
Terence Blanchard, top. Photo: Cedric Angeles. Blanchard, the E-Collective and the Turtle Island Quartet play Bryant Park, New York, on Friday. Details: here. Absence is released by Blue Note on 27 August
Tags: