Playing two 45-minute sets in the Chelsea basement venue the Pheasantry on the opening night of their two-night stay at the club this was a fairly rare opportunity in the UK these days to witness the return to her hometown of London for Manhattan based singer and lyricist Tessa Souter appearing here with her husband the great former Carla Bley drummer Billy Drummond and for the first time in a fine UK connection the former Manu Katché pianist Jim Watson and double bassist Conor Chaplin, known for his work with WorldService Project and Dinosaur.
Telling the audience initially that she had a last minute scare in thinking that she had completely lost her voice after speaking more loudly than she had realised in a restaurant against a back drop of hip-hop music the night before, drama averted Souter given this sounded in remarkably fine fettle with a knowing style at the microphone, frequently closing her eyes or pausing while Watson or Chaplin soloed to quietly concentrate on their playing and generously applaud them.
Singing from a range of her albums over the years including the significant song of personal genealogical discovery based on McCoy Tyner's 'Contemplation' with Vicki Burns' words to become 'Contemplation (Ancestors)' and Wayne Shorter's 'Ana Maria's Song (Ana Maria)' from Picture in Black and White plus that album's choice of Ornette Coleman's 'Lonely Woman' that excellently segued into John Lennon and Paul McCartney's 'Eleanor Rigby' (itself covered on 2009's Obsession). Watson's poignant introduction in the join was adroitly accomplished in harnessing a certain melancholia.
Overall 'Chiaroscuro - Albinoni's Adagio in G Minor' from 2012's classically themed Beyond the Blue came over most movingly - an album that cleverly made use of classical themes as a backdrop to Souter's very literary writing style framed by jazz arrangements. Chaplin was superbly supportive throughout the night and made a telling tonal contribution here.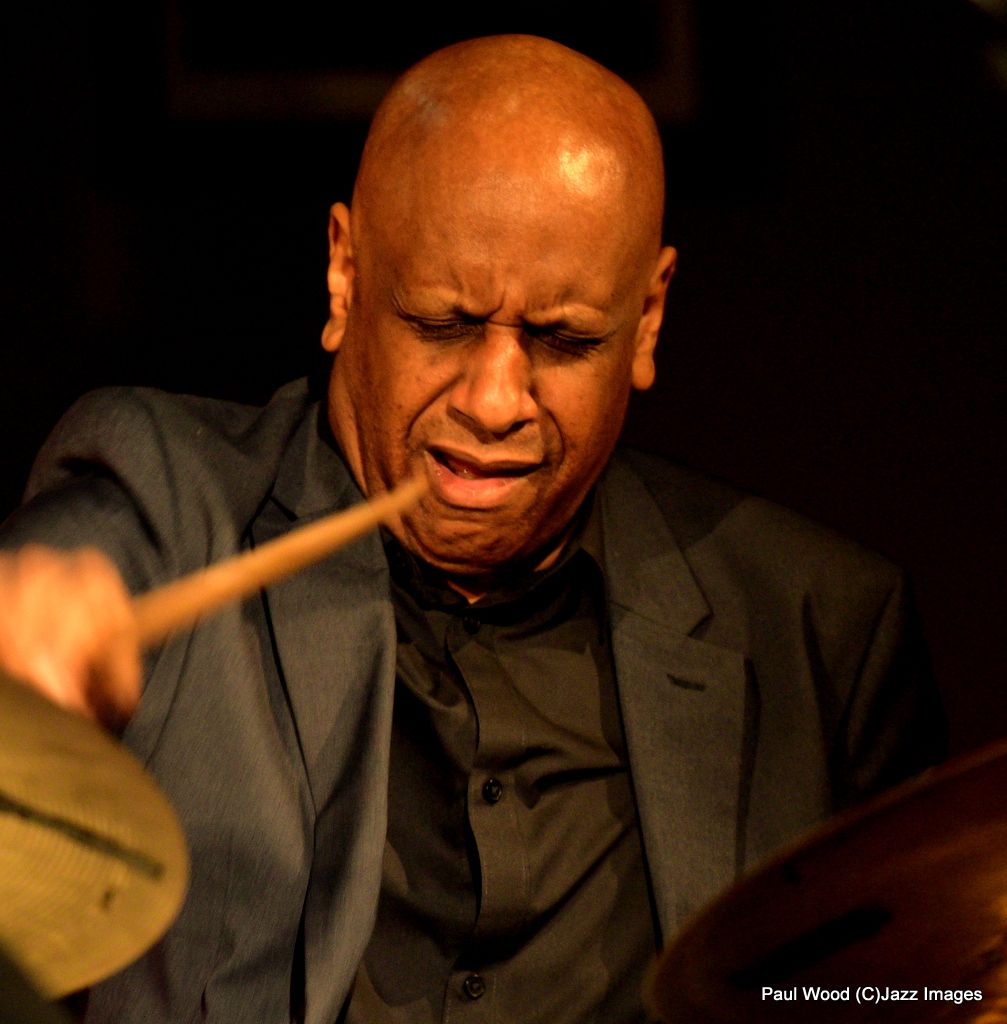 Drummond's contribution overall was a painterly colouristic presence using mallets a good deal in the first set and later becoming more imagistic in his use of cross rhythms that folded in some very fine hi-hat work late on. A lovely section when he drew out the bell tones of his cymbals was another high point and his rapport with voice, bass and piano was very exacting and subtle. Watson got into his stride early on Mongo Santamaria's 'Afro Blue' and he certainly did not hold back in the complexity of his soloing ratcheting up the latinate side when needed and modulating at ease.
Tessa Souter, top, and Billy Drummond, above. Photos: Paul Wood.
24/01/23: Vicki Burns wrote the 'Ancestors' lyric to 'Contemplation' and not as previously stated.
Tags: lives