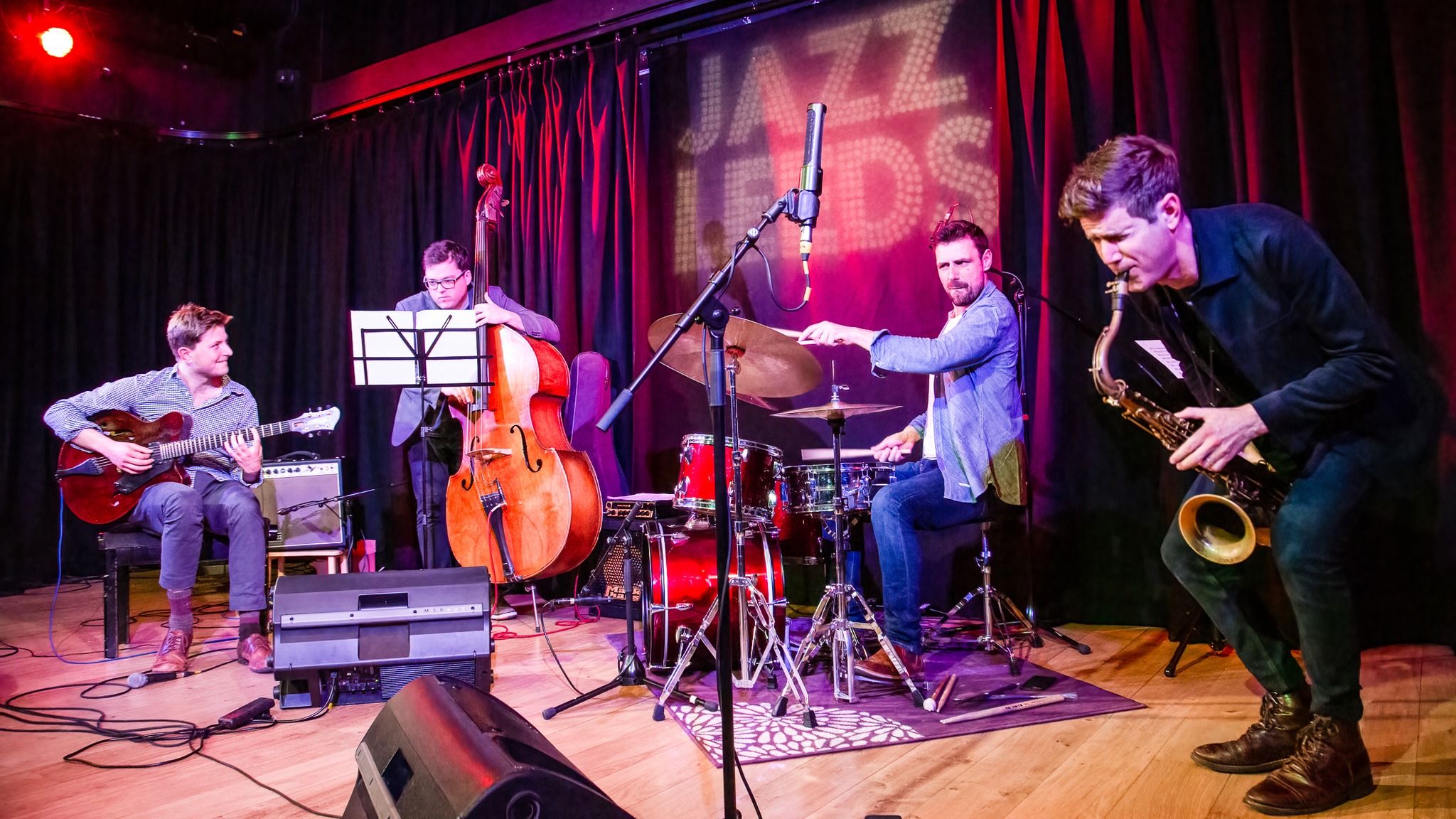 Spending the weekend practising and preparing for a recording session in France, guitarist Tom Ollendorff speaking on the phone from home in London earlier talks to us about his new album Open House - the marlbank album of the week currently - which is out officially on 14 May.
With his road hardened trio familiar from A Song For You - Ireland born bassist Conor Chaplin (with whom he has also toured in the band of Ari Hoenig) and the Jasper Høiby drummer Marc Michel - added is the ''hymnal'' saxophonist Ben Wendel. Tom says that he was introduced to the Kneebody star by ''my good friend Gilad Hekselman'' whose Far Star certainly impressed us a lot last year.
From Ealing in west London Ollendorff had a lot in the pipeline ahead of the Lockdown years and then blossomed instantly as the scene started to return to normal and A Song For you picked up good reviews and word of mouth. The standards on the new record he says weren't random choices but for instance with Bird's 'Bongo Beep' rarity value counted. He doesn't know anyone apart from played by Charlie Parker himself who has recorded the tune. Certainly it fits the record well.
Standards on Open House include an absorbing 9/4 version of Sonny Rollins' 'Airegin'. Ollendorff's own tunes especially 'Carnival' are also pretty special. He says the tune was partially inspired by his new interest in Brazilian guitar - and specifically by Luiz Bonfá's 'Pernambuco.'
Playing an Italian Moffa guitar, he says ''I have had a great relationship with the luthier over the years,'' Open House, again following A Song For You on the Barcelona label Fresh Sound New Talent was recorded at top studio Livingston in Hornsey. Ollendorff is pristine deep down the neck in his articulation found particularly on 'Carnival.'
The rather beautiful original 'Passing Ships' also shines brightly. And there is a very at ease and masterful take on 'My Foolish Heart' among the standards.
A Song For You (Fresh Sound New Talent), above, was released in 2021
As a visiting guitar tutor the Londoner teaches in Cardiff at the Royal Welsh College of Music and Drama. As a teacher he says he focuses on ''fundamental skills''. If presented with a scenario of a player who was, say, into free improv, such as a Derek Bailey exponent, how would be deal with that? He says diplomatically that he would stress that this wasn't his speciality! But as for inspiring students he says: ''Jazz is very broad and there's a wildly different skill set. So it's trying to follow what motivates them in the best way possible.''
Working with new people he says such as Ben Wendel is embracing the challenge to change. ''It doesn't have to be a radical tangent but you have to follow your gut.''
In his own pantheon of guitar icons he rates US master Peter Bernstein very highly. Talking about Bernstein - read a review of What Comes Next - he says he loves what the US player does ''stylistically'' and contextualises Bernstein as ''up there with John Scofield and Pat Metheny.''
Turning to his tune 'Hollywood,' another firm Open House highlight, the piece he created given an interest developed during Lockdown in arrangements found on early movies. And Tom was also much taken by Mike Moreno's Standards From Film recording.
Beyond being an active player and teacher Ollendorff has also authored the Études book of instruction published last year by Faber Music which he says is aimed at intermediate level players - not only jazz players but guitarists generally. Trio dates coming up include as part of an Irish tour Arthur's in Dublin on 13 May and the Hawk's Well theatre in Sligo on 14 May.
Tom Ollendorff top and above left Conor Chaplin, Marc Michel, Ben Wendel. Photos: via Dynamic. Out on 14 May. Ollendorff tune 'Istanbul' is streaming
Tags: interviews