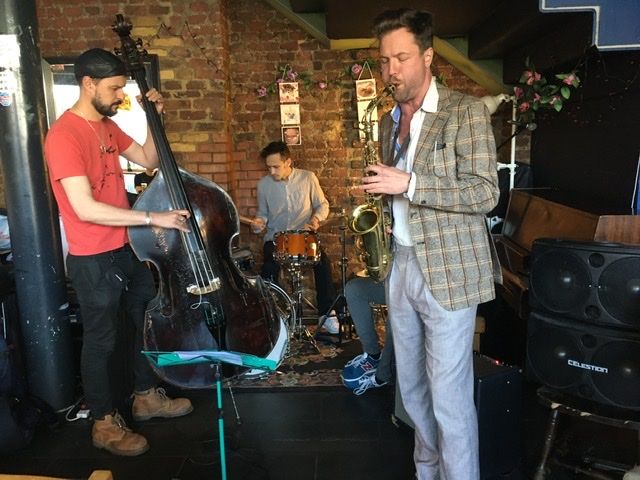 With Perihelion just released, his new album featuring pianist Robert Mitchell and trumpeter Jay Phelps and quartet shows coming up in June, London-based Austrian the Ornette and Wayne Shorter-inspired alto saxophonist Guido Spannocchi was jamming earlier at the Vortex downstairs on such numbers as Wayne's 'Tom Thumb' and more unusually Lester Bowie's 'Zero'. The latter was easily a big first set highlight, a number that was included on Bowie's 1987 album with The Leaders, Out Here Like This.
Guido's core band at the jam was completed by guitarist Phil Stevenson, double bassist Jay Darwish and drummer Filippo Galli. Darwish, known for his work with the fine jazz singers Zara MacFarlane and Jo Harrop, shone. I could only think of the sound of Gary Crosby in my head listening to Jay. Jammers sitting in later included saxophonist Klaus Bru and drummer Marek Dorčík whose tasteful About Time album was released last year. SG
Jay Darwish, top left, Filippo Galli, Guido Spannocchi jamming downstairs at the Vortex. Photo: marlbank
Follow the link to Guido Spannocchi's gig at the Vortex with 2 shows scheduled coming up on 19 June.
Tags: