A week ago I found myself listening live to a fine version of Joe Henderson's 'Jinrikisha' (from 1963 Blue Note album Page One) played by the Hannes Riepler quartet. It is a highly unusual title for a piece, I've read that it was named after a Japanese rickshaw. Whether this is true or not I have no idea but have no reason to disbelieve that it wasn't.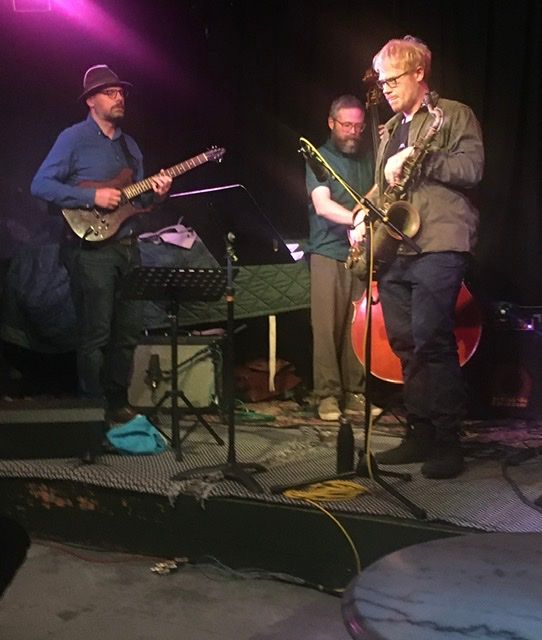 Hannes Riepler, Tom Herbert, Tom Challenger, above
A week later and serendipitously when relistening to some more advance (and advanced) tracks from the new Anthony Braxton Standards Quartet box set ahead of next month's release I revisited the tune that inspired me last week because it's one of the selections available as a taste of the debut of this extraordinary Braxton quartet live tour harvest. As previously discussed regarding the box the iconic altoist via New Braxton House Records is releasing a monumental 13-CD collection that features his very fine band comprised of two English players (Alexander Hawkins and Neil Charles) and a Northern Irishman (Stephen 'Dakiz' Davis).
On Quartet (Standards) 2020, and this takes us back to page one in a titular Hendersonian sense as well as figurative starting point, there is a very fine version of the piece that isn't a million miles away from guitarist Riepler's. With Braxton it's a solo horn lead just like in Riepler's band taken on by Tom Challenger. On Henderson's there was instead a two-horn tightly arranged interplay in the head, Henderson with trumpeter Kenny Dorham. In Riepler's band it's guitar as harmony instrument instead of the piano of McCoy Tyner, in a period sense distilling fairly accurately to that sound the required swing feel. What interests me thinking of the live version I heard then going back to the Page One version and now on to Braxton's live recording all these years on is that it's the individuality of expression that counts far more than the arrangement. In Braxton's version there is a significant piano solo from Alexander Hawkins (very un McCoy-like stylistically) late in the piece that I suppose lands more in Elmo Hope-like terrain and which is quite delicious and slightly unusual. Davis on drums is quite reflective and there's a fade at the end of the nine-minute plus piece that left me wanting to know the actual ending. Braxton is fantastically persuasive on this track, there's a lovely scalar ache and a channelling of the uncertainty principle that lies at the heart of creativity organised by a very solid and positive bass line from Charles. Anthony Braxton, top
Read Steve Davis on touring with Braxton
Tags: