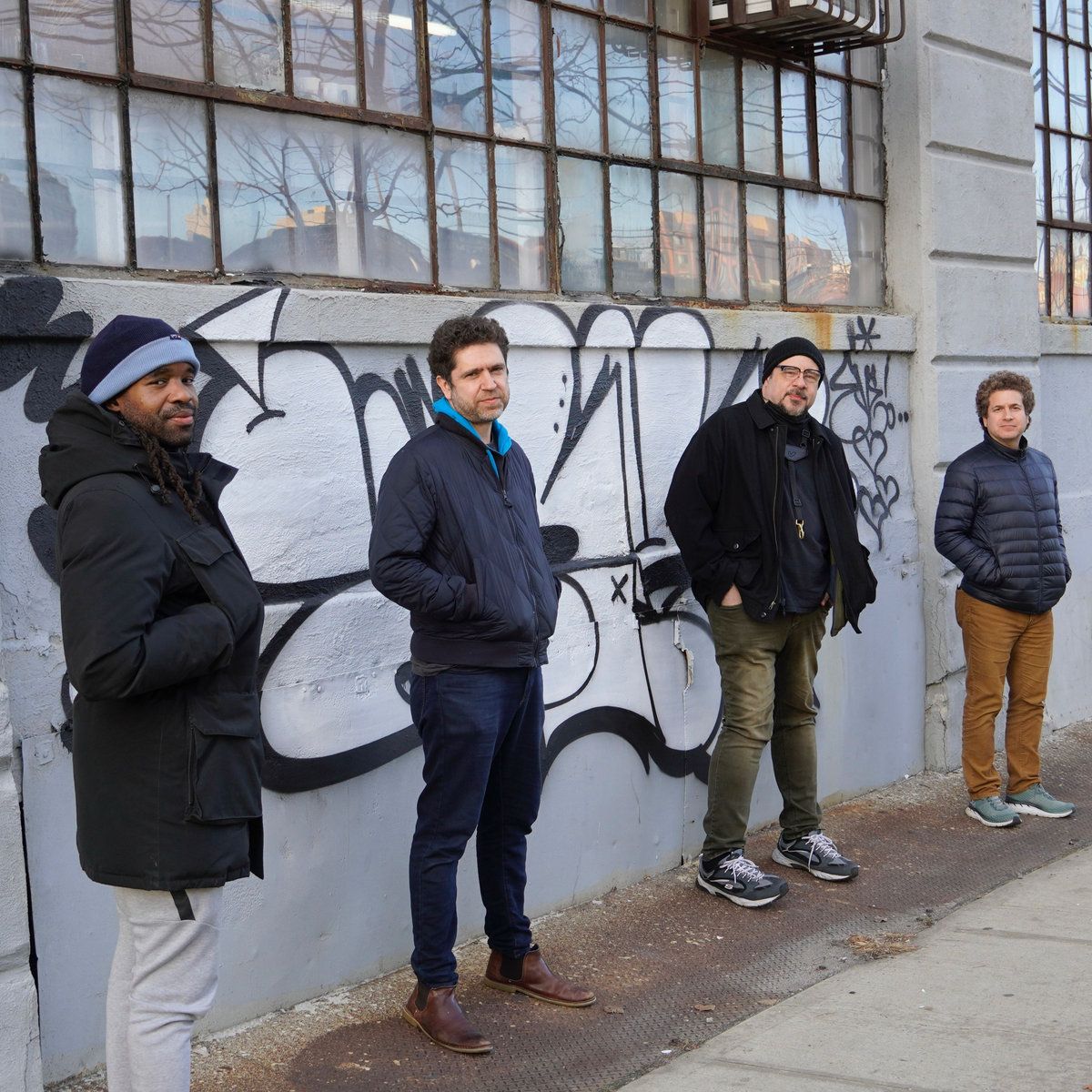 Obed Calvaire, above left, Orlando Le Fleming, Bob Franceschini, Kevin Hays. Photo: via Chesky.
Led Zeppelin isn't the first thing that springs to mind ironically on 'Whole Lotta Love' from tenor saxophonist Bob Franceschini, pianist Kevin Hays, double bassist Orlando Le Fleming and drummer Obed Calvaire. It does not sound remotely how you'd expect it to. But it works, Calvaire is on the mighty 'Mashup' with Dave Holland and Kevin Eubanks popular on marlbank recently. Here he's again very listenable, moving a little perhaps into a Dennis Chambers space the way he strokes the cymbal.
Le Fleming's circling of the beat is the most Zeppelin-like aspect of the quartet's instrumental version of the Zeppelin classic. Yet this isn't obvious at all unless you latch on to the clues from the swung beat and for practical purposes knowledge of the original goes completely out of the window given the amount of harmonic and structural renovations the arrangement allows for. Le Fleming (England's finest jazz bass export to the States since Dave Holland? Probably yes) settles then walks the line behind superb saxist Franceschini last, actually the only time live, heard by this blog playing at the Hawk's Well in Sligo town with Mike Stern and Victor Wooten in 2013. The saxist comes across a bit like the much missed Steve Grossman (who was stunning on Miles' Jack Johnson) and goes pretty bluesy in his inflection by responding well to Hays who is as subtle as ever utilising chords that sit on a tune such as 'So What'. It's interesting and more rewarding as a listener how the band boil down fragments of 'Whole Lotta Love' and adapt it to their own dazzling straightahead sound rather than shadow dance at being Zep. Whole Lotta Love: The Music of Led Zeppelin is on Chesky.
Tags: