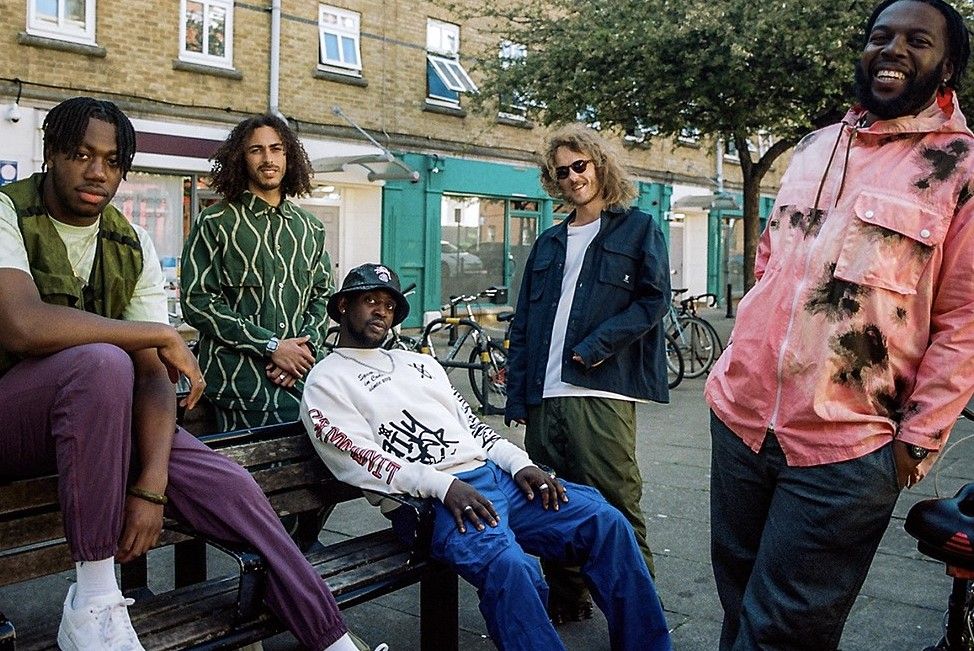 Ezra Collective - top left-to-right: Ife Ogunjobi, James Mollison, TJ Koleoso, Joe Armon-Jones, Femi Koleoso. Photo: press
Ezra Collective reach parts of a wider non-jazz consciousness quite credibly incidentally that few UK jazz acts can dream of. It isn't hard to understand why given the reach of what they do. Now signed beyond the bedrock of the jazz village to the Fontaines DC and Beth Orton-rostered label Partisan Records the AfroCuban exuberant trumpet-dotted flavour to 'Victory Dance' shows a buoyant mood in which pianist Joe Armon-Jones underpins the horn line in the manner of Chucho Valdés and breaks out to solo before the horns in unison come back.
The London band borne out of Tomorrow's Warriors are led by drummer Femi Koleoso with TJ Koleoso on bass, Joe Armon-Jones on keys, Ife Ogunjobi on trumpet and James Mollison on tenor saxophone.
Influenced by grime, hip-hop, Afrobeat, jazz and more they interpreted Wayne Shorter Adam's Apple classic 'Footprints' on 2020's best-selling various artists compilation album, Blue Note Re:imagined. Featured guests on Where I'm Meant To Be, include widely adored hitmaker Emeli Sandé on 'Siesta' the track begun by the expectant din of people's voices and Sandé sounding soulful with Armon-Jones on keys busy and circling in with percussion to keep the pace up. The lyric is however a fairly routine homily advising ''take your time'' and resilience. Rapper Sampa the Great, Kojey Radical in conversation a little with the late Tony Allen on the thumping Afrobeat livener 'No Confusion' riffing off Gil Scott-Heron lyrically also feature. Words from the great film and tv director Steve McQueen are at the radical heart of the album who talks about black music ''breaking through'' and ''within the unrecognisable there is the familar.''
There's plenty of variety - the strings soaked 'Never the Same Again' with a beautiful piano line and some of the best horn playing on the album is my overall pick and shows a lot of maturity and serenity away from the more party friendly numbers. The reggae feeling on 'Ego Killah' is also a big plus and including Charlie Chaplin's 'Smile' ubiquitous as a cover works well in context, certainly the sentimental choice. 'Belonging' has one of Femi's best grooves and the sax line is very elemental. Certainly Ezra Collective can do tender well and you get that here even on one of the less essential tracks the Nao vocal feature 'Love in Outer Space'. It would be churlish to give the album anything less than four stars - a feelgood listening start to the day for sure but there is a lot of depth and ideas that contextualise jazz in the bigger picture juxtaposing all their influences and bouncing of all of these to make their Trojan Horse jazz imaginings out there in the glare of the wider music industry marketplace something fresh and appealing.
Ezra Collective stream tonight live from their sold out show at Ronnie's.
Tags: