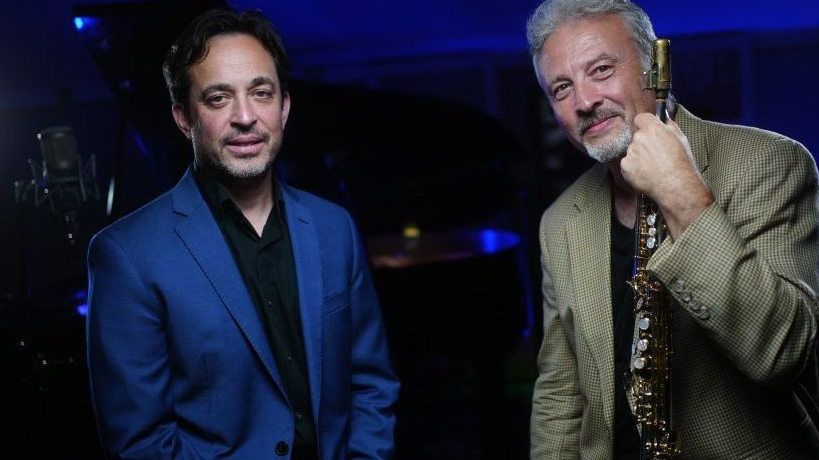 'I go to the Clyde and I mourn and weep, For satisfied, I ne'er can be' - words from the dark ballad of separation and love 'Black is the Colour' an instrumental of which is a highlight of Life to Life
So you made your name as significent players in the 1990s. Thirty years on when the music media caravan such as it was in those more ramshackle and maverick but far more powerful days is long since dismantled. The very road is littered with good people discarded along the way for no good reason. But you are still standing. What do you do?
Go deeper - and even more intimate. Tim Garland, known as a name in his own right and with Chick Corea, Bill Bruford's Earthworks, Lammas and Acoustic Triangle doesn't restrict himself to playing in one style on Life to Life even on a single tune. As a sheer instrumentalist on the saxophone the only players with comparable chops and the same protean imagination on the UK scene these days are Tommy Smith, Courtney Pine, Mark Lockheart and Shabaka Hutchings.
So the English player can traverse the free into funky, into chamber jazz (just like the great Scot Smith in particular) and more, even venturing into what you could easily decide is his version of Kafka-esque Ellingtonia somehow on 'The Missing Ingredient'.
Jason Rebello whose career has included headline making stints with Sting and Jeff Beck was last heard by us in a fine duo with Luca Boscagin which still annoyingly beyond an experimental NFT (non fungible token) hasn't come out properly. Rebello in his early career was produced by Wayne Shorter and became part of a soul-jazz scene strongly influenced by Herbie Hancock.
Thirty years on when you listen to the west country based Londoner's style - there is little to no jazz-rock vocabulary here - and this observation, read on, also applies to Garland: you can't hear any clear influences because all have been absorbed and each have their own complex sound that is all about both as people not about who they are worshipping or want to pastiche because and this is why age in jazz is important they are older and know what their influences are and how to either use them to their advantage or not.
Rebello has a way with a funky lick and his modulations have a grand panoramic sense to them. He never really goes out and doesn't do atonal. But he does do full improvisation in a sense of elaborate paraphrase of a theme and by pushing it through suitable key changes, tempo and time feel change along the way.
An album that sits well alongside last year's Courtney Pine and Zoe Rahman gem Spirituality.
The tunes are mainly originals, both players contribute. 'Soul Resonance' is a beautiful ballad where Garland's husky timbre adds a lot of character to the gently unravelling melody while there is extra use of sustain pedal and a natural reverb caught by the recording engineer on Rebello's answering line that gives a sense of huge dignity to the piece. Includes a version of Chick Corea's 'Children's Song No. 6' that goes back to the 1979 ECM Gary Burton and Chick Corea Duet album and the traditional folk melody 'Black is the Colour' - a ballad first recorded in the 1940s by John Jacob Niles but which is much older. The best version we know is by the peerless Irish singer Christy Moore. Garland no stranger to working in folk contexts, with the great poet Don Paterson and singer Christine Tobin, uses bass clarinet on 'Black' to take a tonal road less travelled. A beautiful album that deserves a sackful of awards. Jason Rebello above left and Tim Garland. Photo: Whirlwind
MORE READING:
Tags: